Multifunctional, ultra-comfortable and customizable to a T, sectional sofas offers countless possibilities for your living room. Read our tips and learn how to choose the best sectional for your space!
Sectionals versus Sofas
In living rooms where a sofa might look out of place, a sectional can be a valuable asset, not to mention the centrepiece of your living room's style. Its mellow aesthetic adds an urban-chic vibe, while its adaptability makes it a perfect fit for any space. No doubt, because sectionals combine two, three or more pieces in various configurations, it's easy to find an arrangement to suit your needs. A number of sectionals, like the Dakovo sofa, even offer the option of a built-in bed.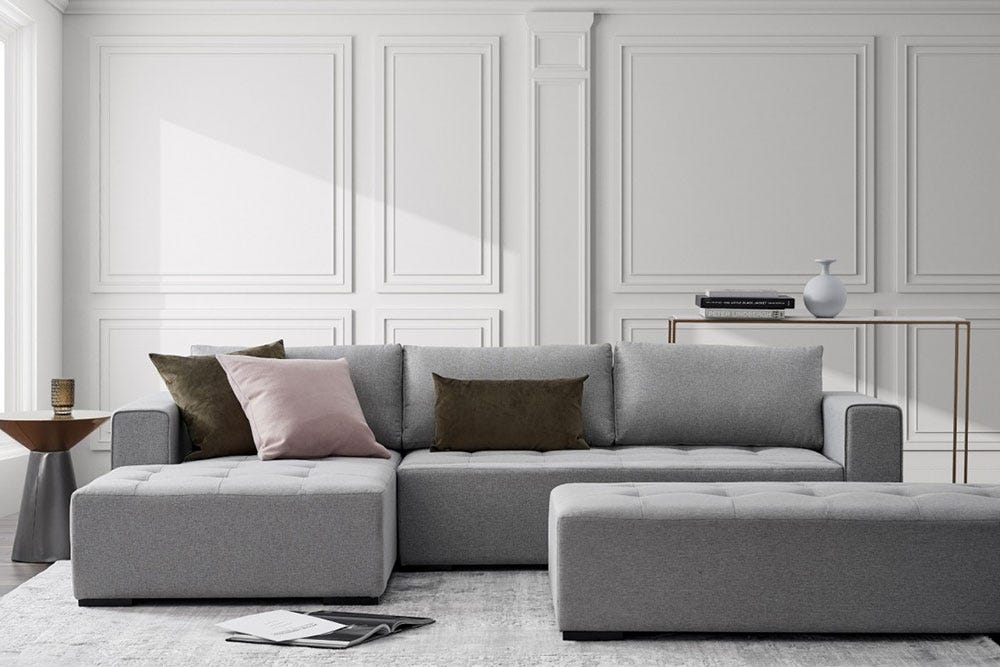 Martini, a sectional with square-shaped legs and right angles, is a practical pick for small living rooms.
Sectional Styles
In a small living room, where your options can be limited and there is little to no room for extra chairs, a classic sectional — usually a loveseat combined with a chaise lounge — is a highly practical pick. It can also save you a few inches of floor space and lighten the look of your decor, especially when it comes without armrests. The Martini sectional sofa is one such sectional whose straight-lined silhouette optimizes the layout any space without compromising comfort or furniture flow. Like most sectional models, Martini's padded chaise longue is interchangeable (right or left). Just be sure to choose the configuration of your sectional by the time you make your purchase, and don't forget to measure the space you have to work with before placing your order!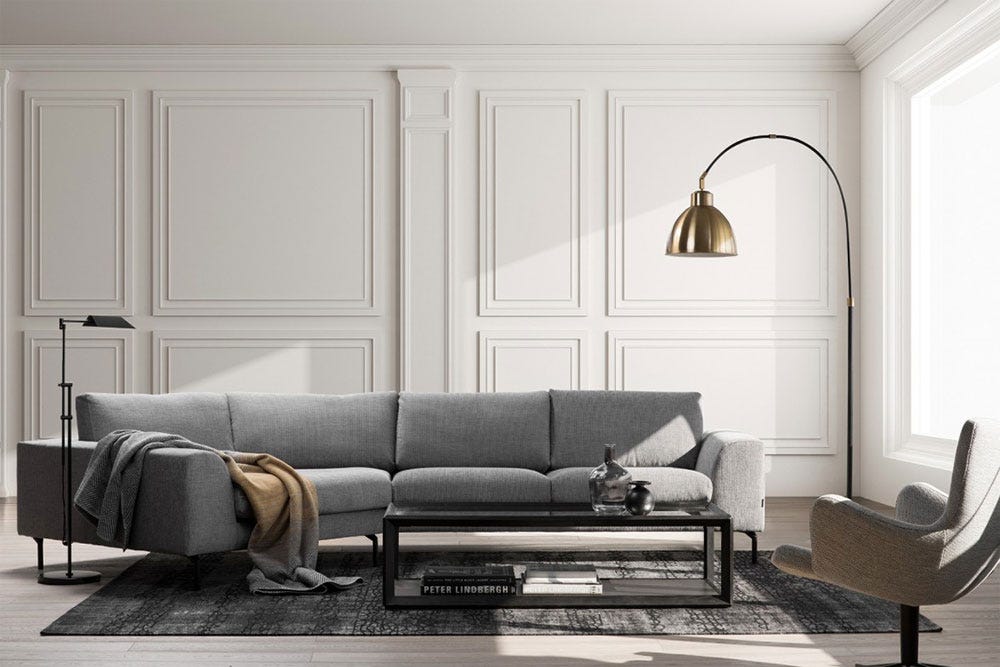 With a sleek look, the Jazz sectional sofa comes with an angular chaise lounge to provide a deep and comfortable seat.
In living rooms with unconventional configurations, a sectional sofa can work wonders! The Jazz sofa, for example, includes an angular chaise lounge that adds a dynamic touch to any room. On top of its good looks, this type of sectional sofa completes a space without overwhelming the room.
Another type of sectional is to consider is the modular sofa. It comprises a variety of different sections, sold separately, that you can combine to suit the size and layout of your living room. A choice of armchairs (with or without armrests), corner pieces and Ottomans offer a wide range of configuration options. With its oversized format, the modular sofa is also the perfect way to make the most of your space. Even better, it offers a variety of uses. With a large modular sofa, you can sit in multiple ways, lie down comfortably, turn your ottoman into a coffee table with the simple addition of a tray, and even separate the different elements to change up your living room style. In a nutshell, it makes customizing your living room fun!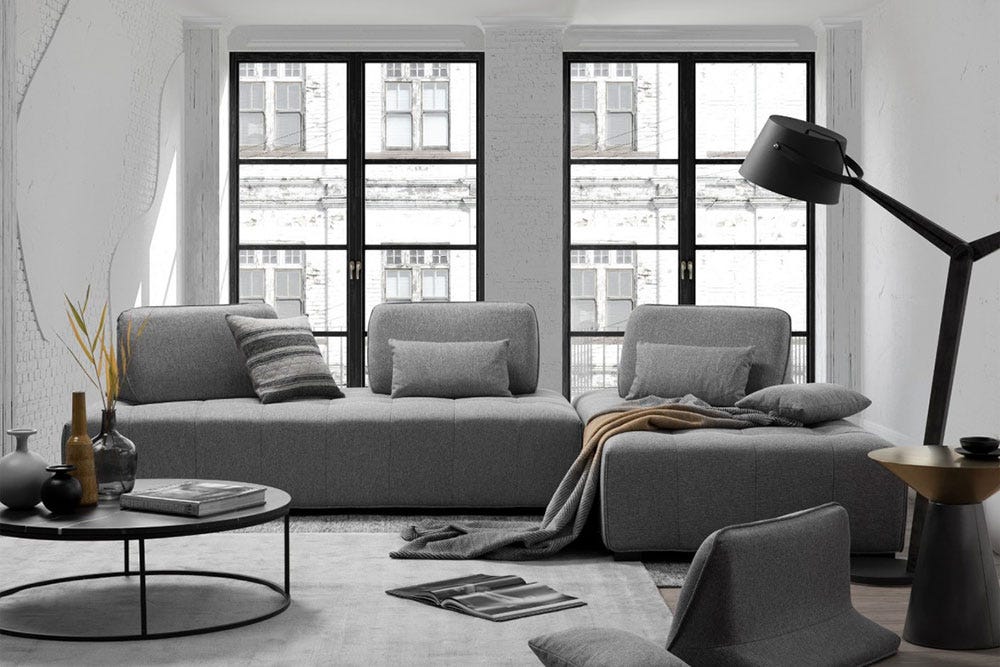 With deep seats and removable backrests, the Facette modular sofa converts easily into a daybed.
Furnish your Living Room with a Sectional Sofa
Take advantage of the asymmetrical shape of a love seat or chaise lounge sectional sofa to furnish a small living room. In an open space, position your sofa with its back to the kitchen or stairs in order to create a visual separation. Use the chaise longue as an alternative to an additional armchair or to help balance out various volumes. Alternatively, with a modular sofa, you can always separate the two pieces and style them face to face.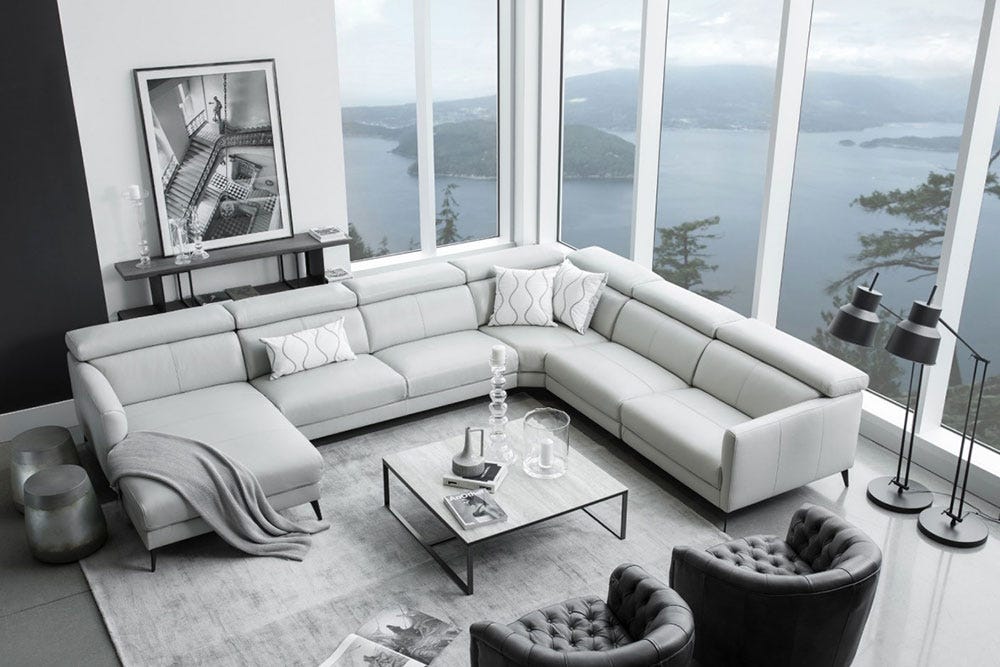 The Ariana sofa stands out with adjustable headrests that can be repositioned to suit any taste.
For an extra-chic look, opt for leather upholstery and modern lines. The Ariana sofa, with its sleek and slender appearance, will add an elegant, urban touch to your decor.
In a large, contemporary-style living room, opt for a modular sofa with a U or L shape to create a sense of privacy. Since this type of sofa adds a warm and inviting effect, it's a clever choice for a basement living room or family use. In addition, it offers you the chance to change configurations according to your mood! The Paul collection features generously padded seating (perfect for home movie nights), while the Facette series is a smart choice for loft-style spaces and transforms seamlessly thanks to its easily removable backrests.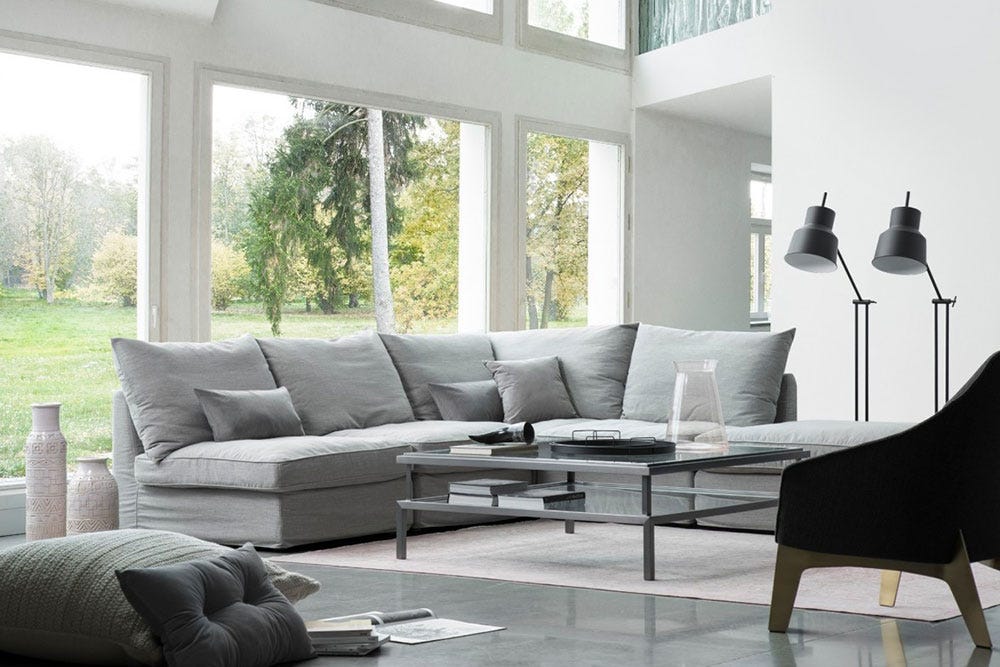 From ottomans to corner armchairs to a choice of armrests, the Paul collection offers countless customization options.
Whether you choose a chaise lounge or modular style, sectional sofas offer the advantage of structuring your living room without being limited by its walls. If space allows, position your sofa in the centre, opposite the focal point, of the room — a styling trick that's especially fitting for modular styles with removable backrests that optimizes the functionality of the sofa's seats.
Lastly, spotlight your sectional sofa with a generous pile of decorative cushions. Then, complete the look with a rug to define the space, a coffee table positioned within arm's reach and a floor lamp (or two!).