Designed by Michel Ducaroy in the same year as the launch of the Ligne Roset brand, the Togo sofa has been produced ever since in the factories of Briord, a small village in the Bugey region nestled in the foothills of the Jura mountains.
Michel Ducaroy, the designer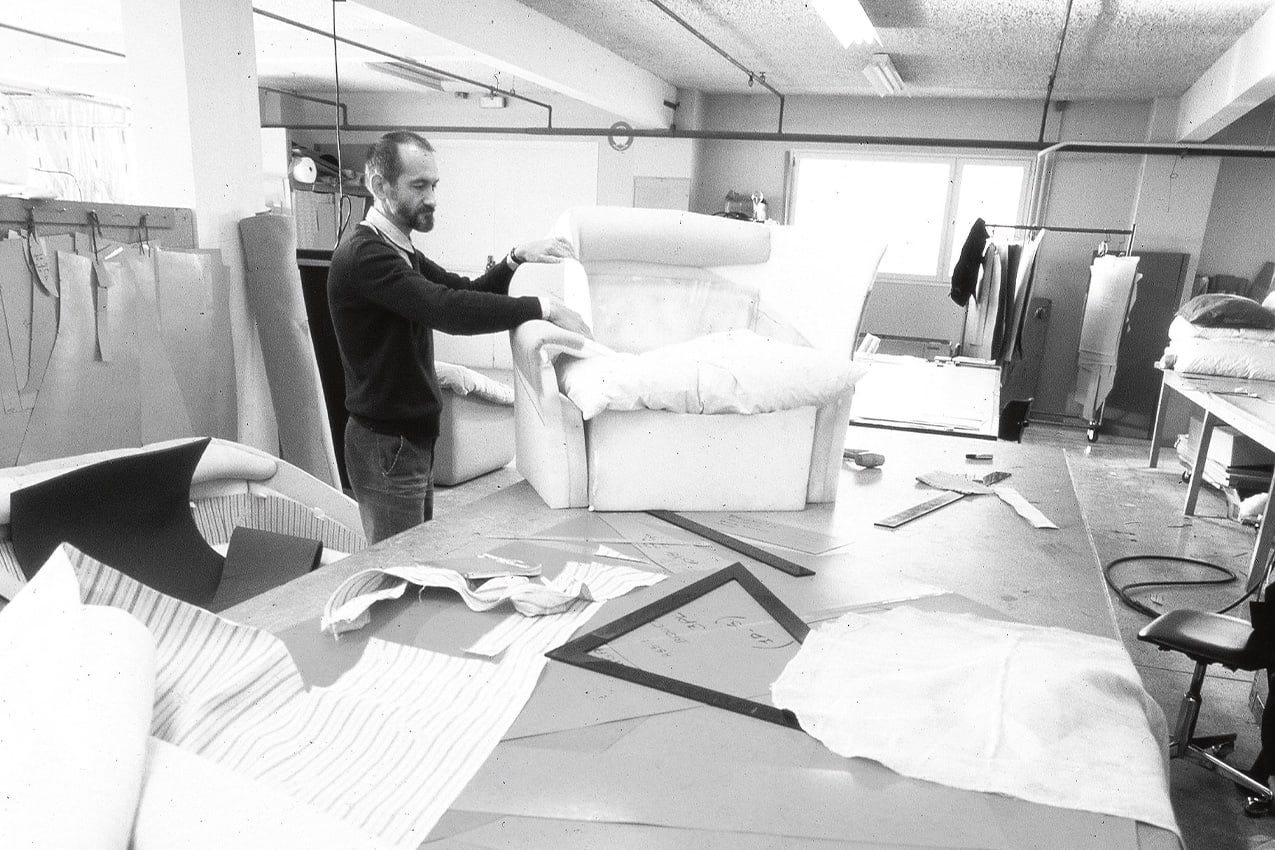 Michel Ducaroy in 1973, in Ligne Roset's design office.
Born in Lyon on November 4, 1925, French designer Michel Ducaroy was raised in a family of contemporary furniture makers, often commissioned by the Chaleyssin factory, which most notably supplied furniture for the SS Normandie ocean liner.

Michel Ducaroy worked in the family business before he began studying sculpture at the École Supérieure Nationale des Beaux Arts de Lyon.
In 1960, he met Jean Roset (1920–1999), in pivotal an encounter. Roset had taken the helm of his family business, following the death of his father Émile Roset in 1946. Founded by Antoine Roset in 1860 between Lyon and Geneva for the purpose of manufacturing parasol handles and walking sticks, the Roset company first diversified into making chairs, followed by furniture.
In the postwar years, Jean Roset turned to the contract market, developing ranges of furniture for public hospitals in Lyon, bedroom furniture for halls of residence, and furniture for other public buildings. It was at this time that Michel Ducaroy designed a range of furniture for young people, along with numerous chairs, settees and pieces for public. The end of the 1960s, coupled with the creative explosion of the 1970s, led Jean Roset to refocus his company's activities on the domestic market.
An intense spirit of innovation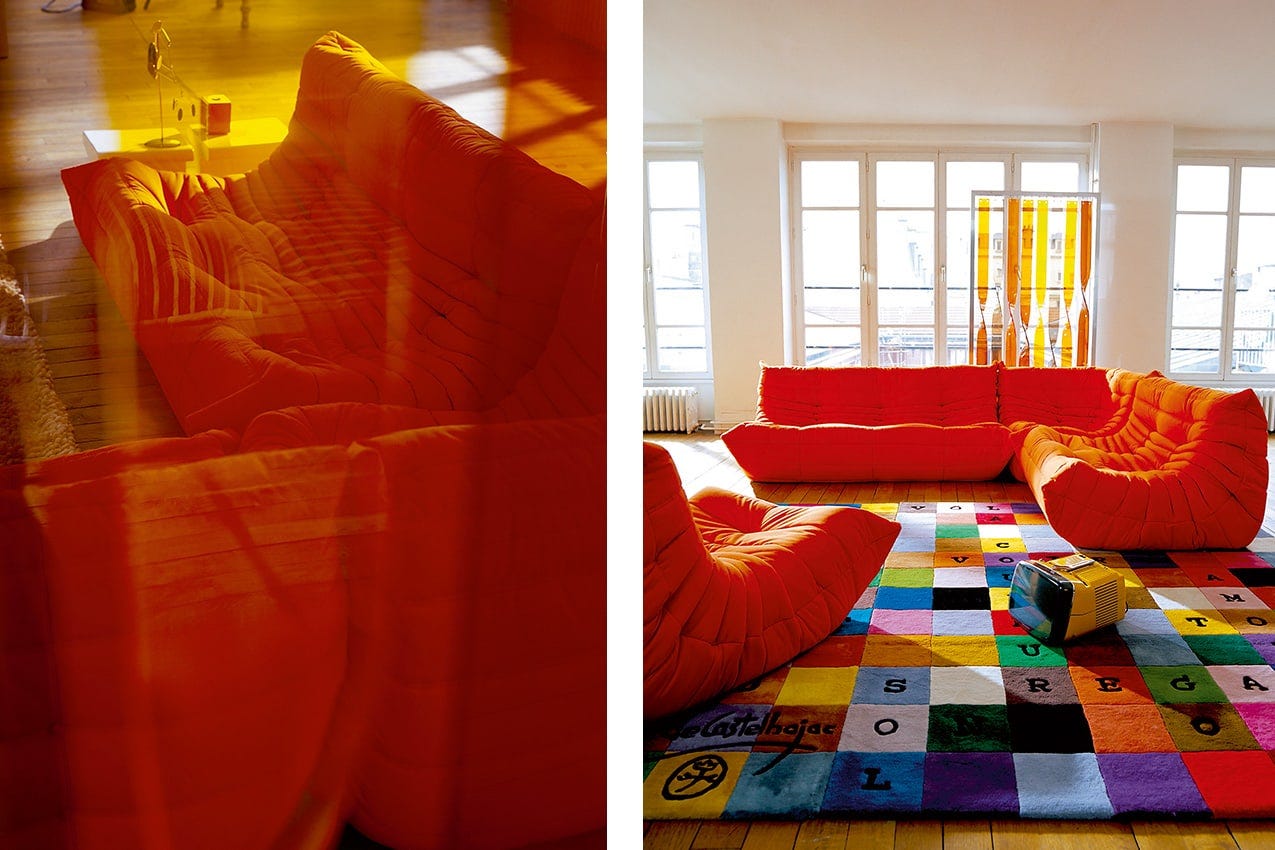 As head of the Roset design department, Michel Ducaroy became a pioneer of change.
Togo 1973
"A tube of toothpaste folded back on itself
like a stovepipe and closed at both ends."»

- Designer Michel Ducaroy on the inspiration behind Togo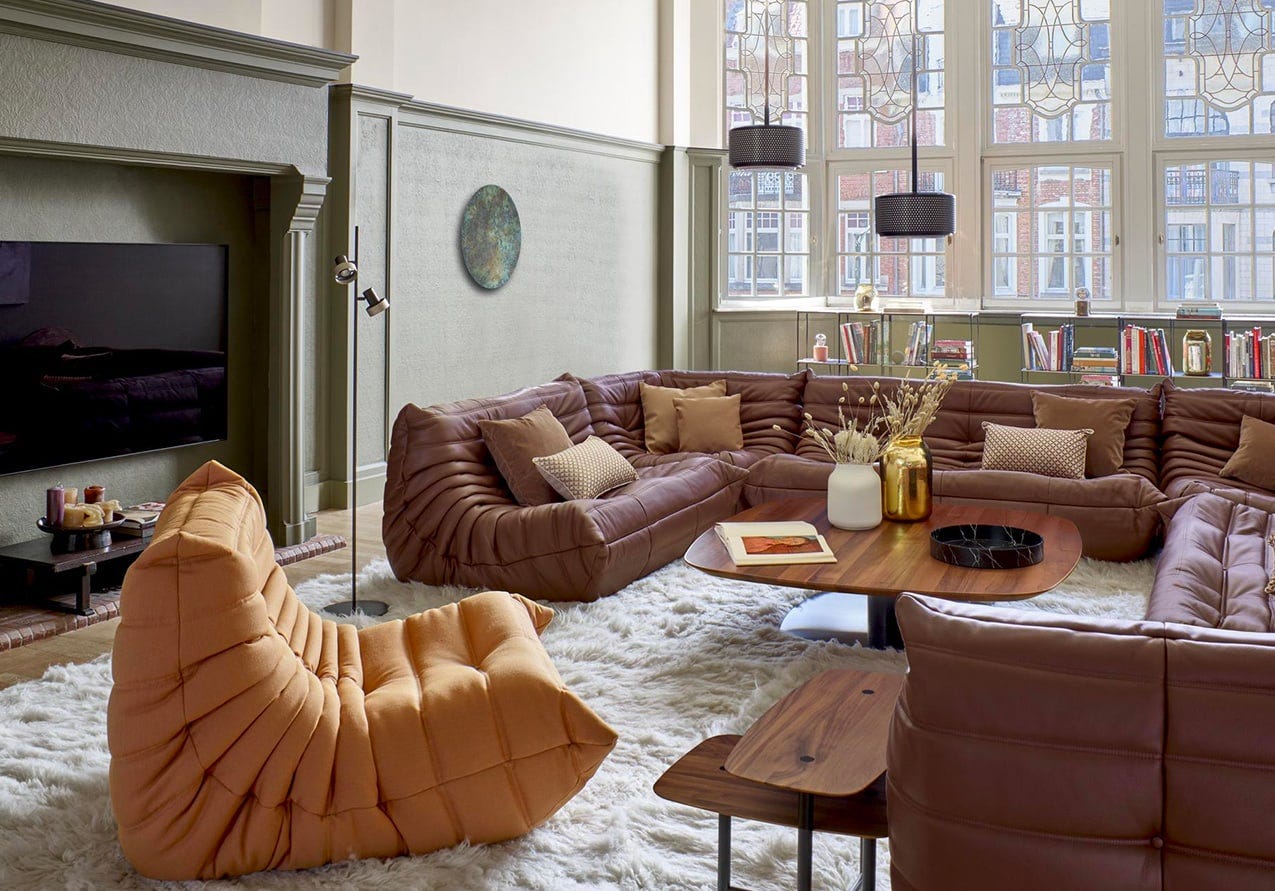 First presented at the Salon des Arts Ménagers at the Palais de la Défense in, Paris in 1973, (28th February – 11th March), its Togo's crumpled, 'newborn-like' appearance and Shar-Pei–esque wrinkles earned it more than a few doubtful looks from professionals and the members of the public alike. The organizers of the fair, however, were greatly inspired, and awarded Michel Ducaroy the René-Gabriel prize (two years later Pierre Paulin was honoured with the same prize), which recognized "innovative and democratic furniture," that , that is, pieces which offered the right price- value relationship.
From forward-thinking design to fashion giant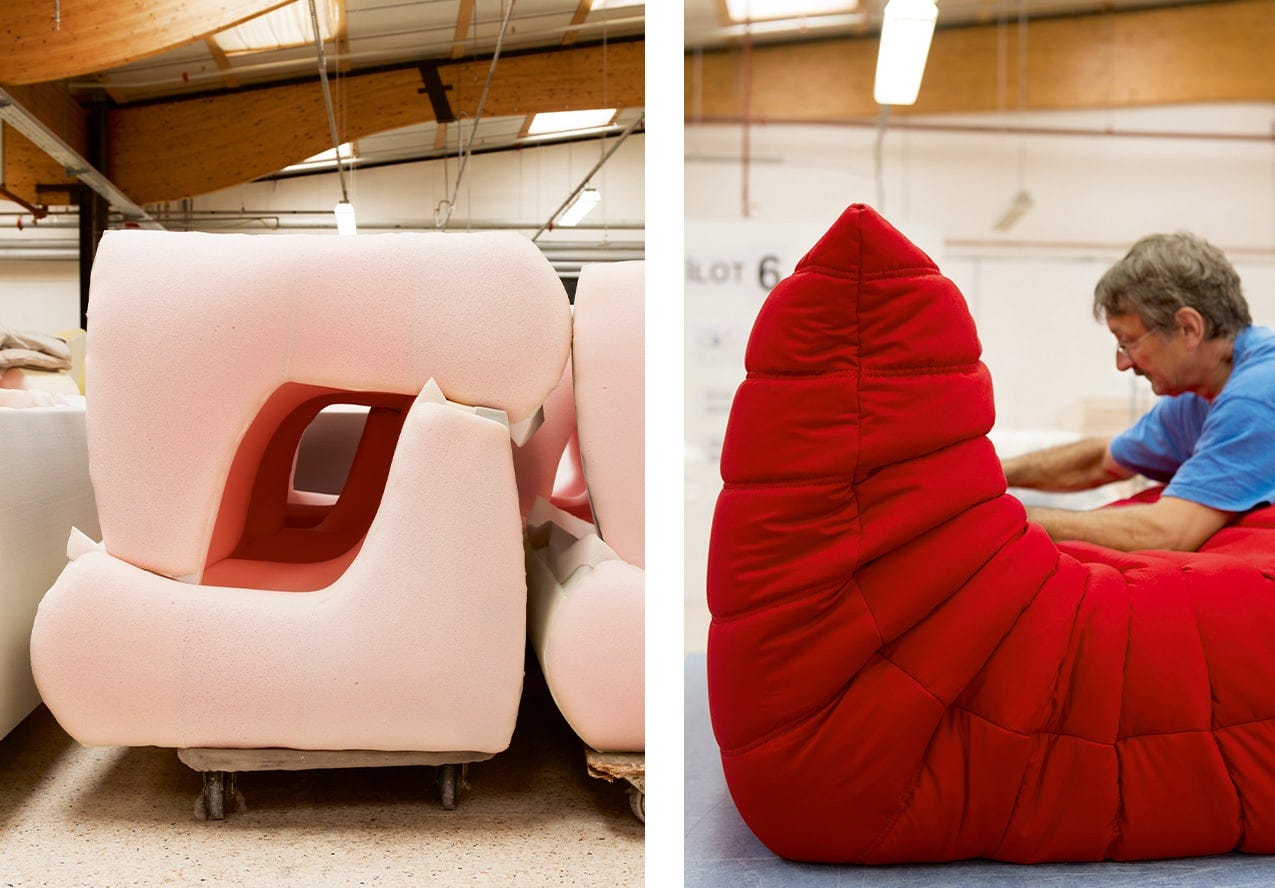 A symbol of the changing times and a means of "trouver la plage sous les pavés" (that is, " finding the beach beneath the paving stones"), Togo is also the fruit of Ducaroy's reflections on the almost limitless possibilities of shape offered by new materials, such as high-quality foams and polyester quilting.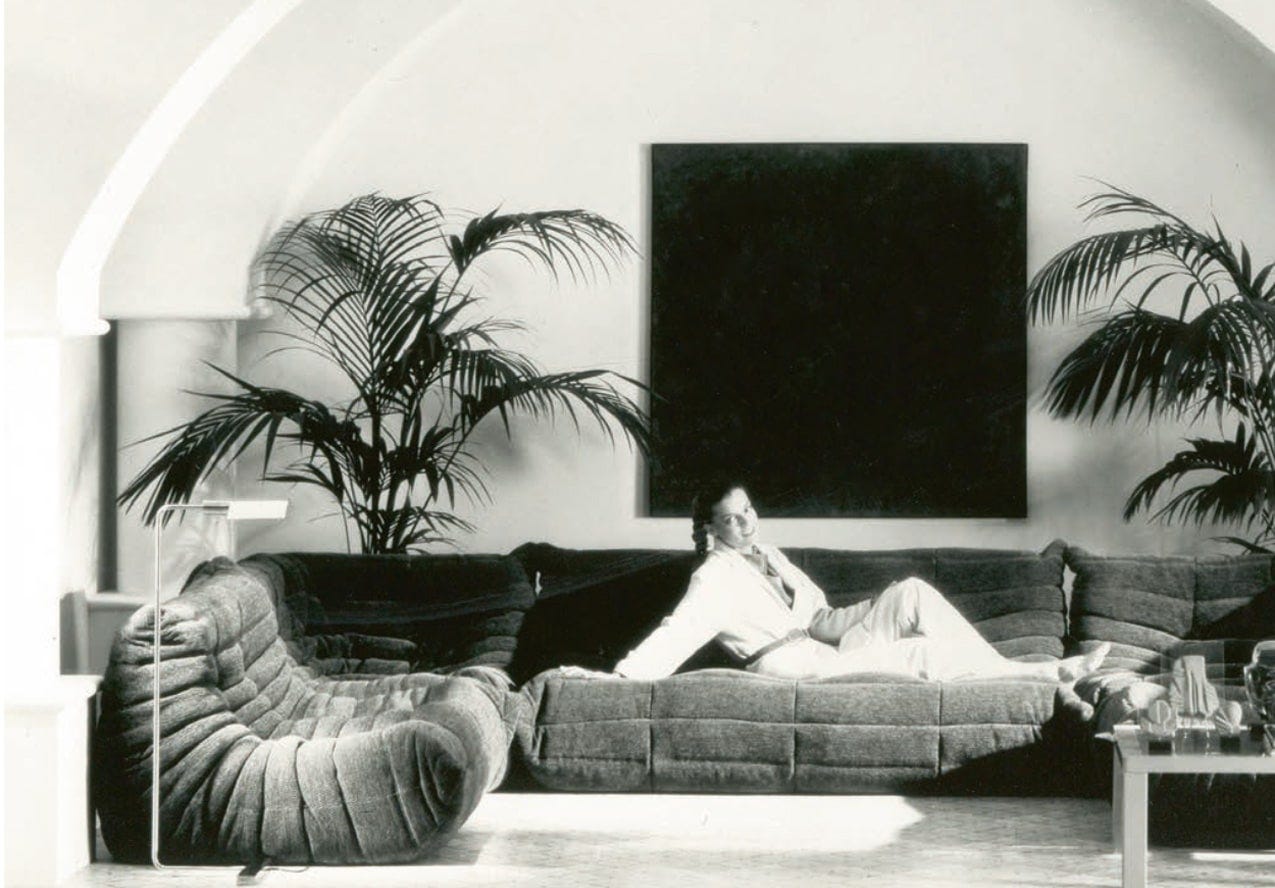 Togo's low-slung seating position and the comfy upholstery broke with the French Salon tradition.
Ducaroy's sculpture training at the Beaux-Arts de Lyon most certainly played a role in his inventive modelling of Togo's unique form. This new freedom enabled him to translate his vision all the way from "a tube of toothpaste folded back on itself like a stovepipe and closed at both ends," as he often described it when questioned about the source of his inspiration.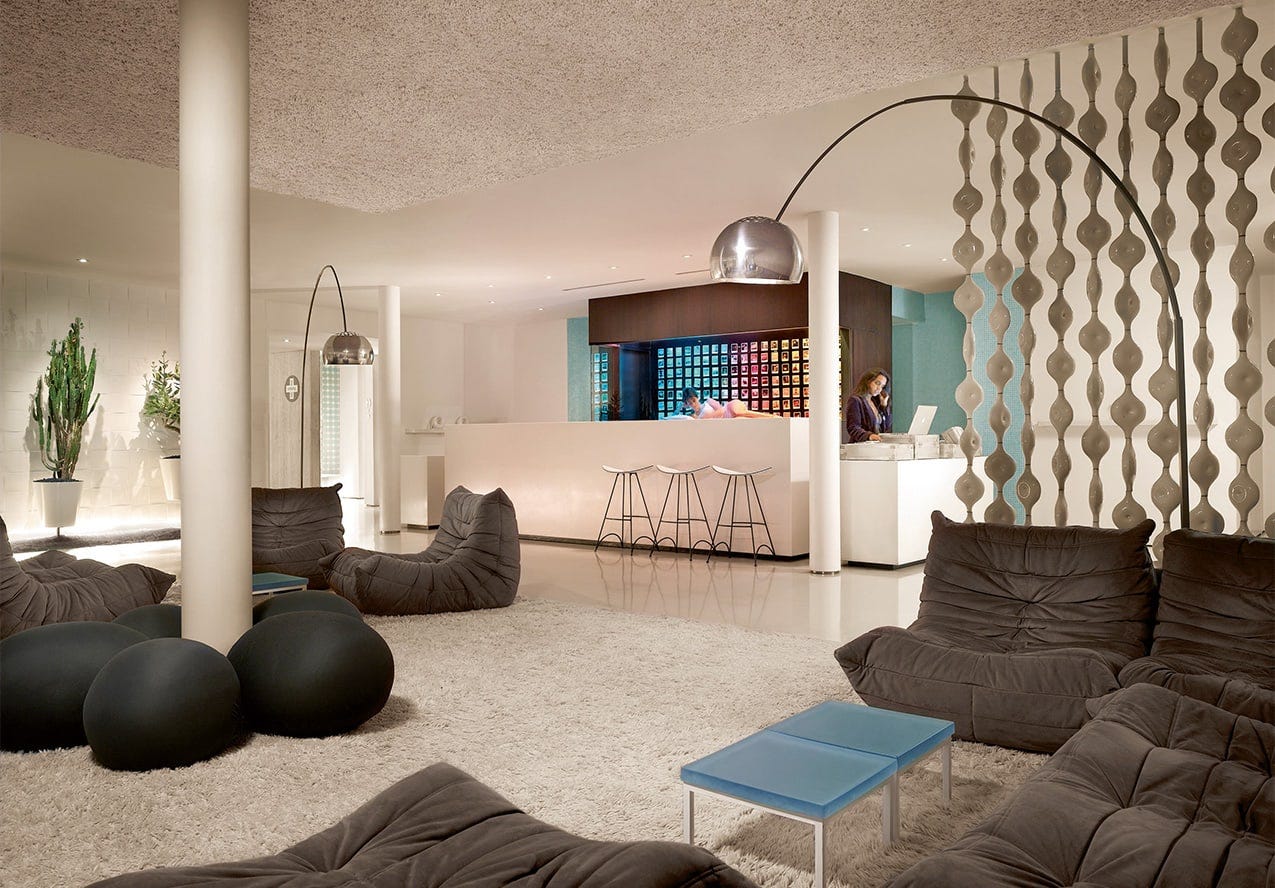 The hippie generation quickly embraced Togo as a place to curl up and enjoy their intentional idleness and counter-counterculturism. Now a bête de mode ("fashion giant") for 50 years, acquiring no wrinkles along the way besides those in its covering, Togo has turned up in hotels around the world, including the Jaffa Hotel in Tel Aviv, Les Sources de Cherveny in Cheverny, Mi Hotel Suites in Lyon, Hotel Alpina in Chamonix, Go Native Hyde Park in London and the Standard Hotel in Hollywood, along with the homes of numerous celebrities such as Lenny Kravitz, Bob Sinclar, Matt Sorum, Florence Foresti, Marc Rebillet and more. Its characteristic soft and pleated silhouette, in which two generations have already nestled, continues to attract to this day.
Togo 50th anniversary special editions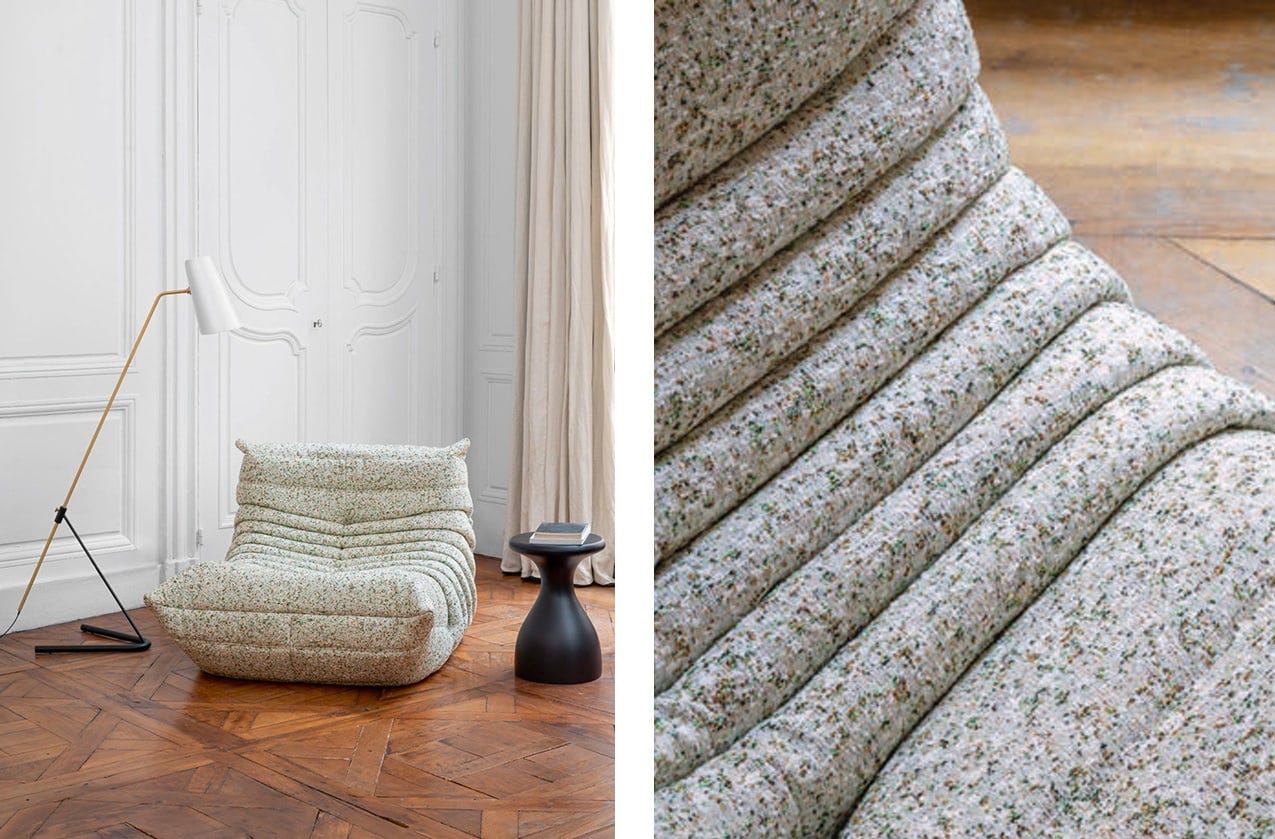 Standard Hotel, Hollywood – California, USA
For its 50th anniversary, Togo is dressing up in two limited-edition covers for a fresh and playful take on interior design: Atom by Kvadrat and La Toile du Peintre by Pierre Frey.
Toile du Peintre
With La Toile du Peintre by Pierre Frey, Togo is enhanced by a contemporary tapestry, with a large graphic pattern and vibrant colours in a reinterpretation of a work by painter Heather Chontos. Its scale, and free, joyful strokes make this fabric an ode to artistic expression that will energize interiors around the world.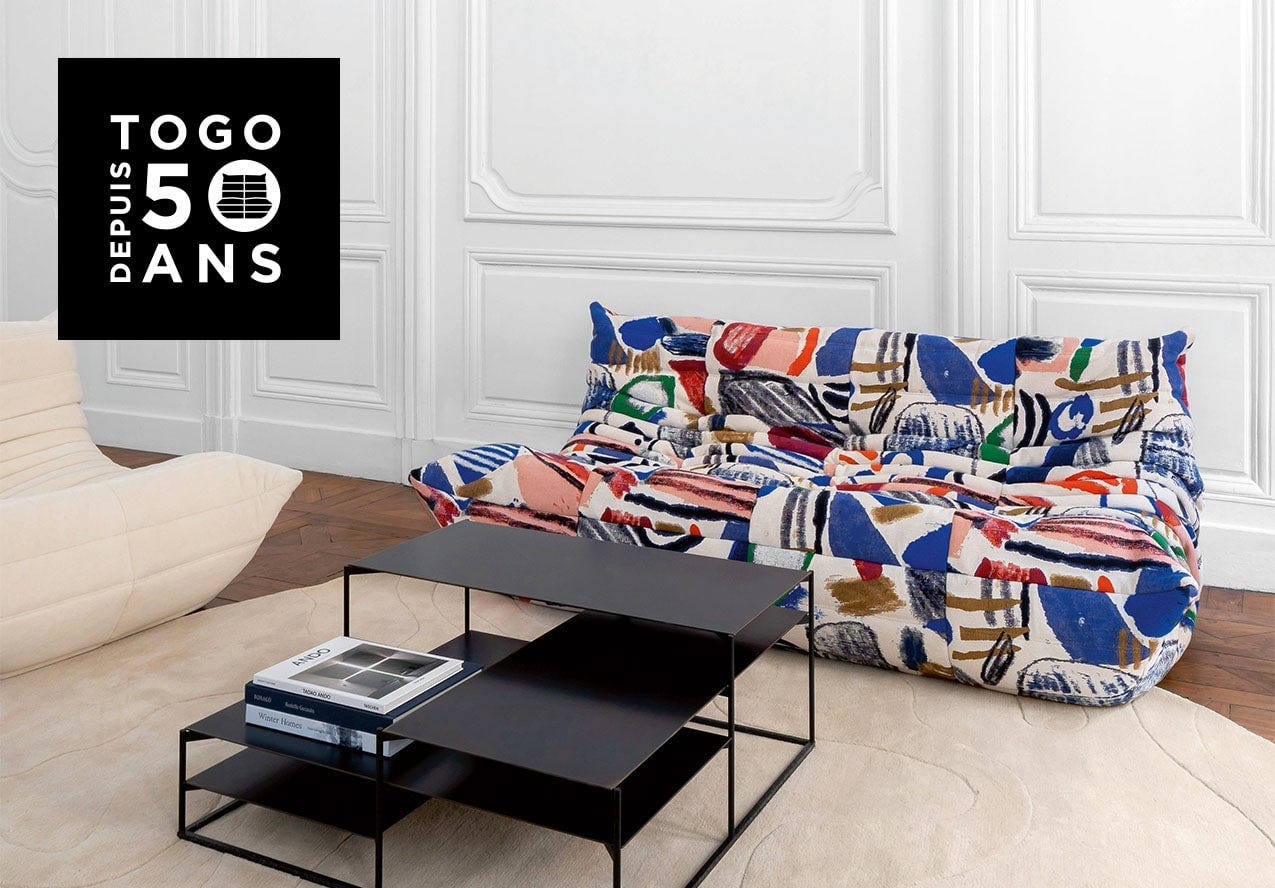 The Togo Toile du Peintre will available exclusively at Ligne Roset showrooms until the end of December 2023. Togo also includes a denim fabric as part of its extensive permanent collection of fabric and leather cover.
This denim is made from 49% recycled materials, including 37% recycled cotton and 10% recycled polyester. It is woven in Charlieu, 40 km from the factories of Togo, with the aim of further reducing the brand's carbon footprint.