Available in a variety of styles, table lamps are the key to creating visual comfort, a soft ambiance and a personalized space. Our experts shine the spotlight on incorporating table lamps into every room.
1. First Impressions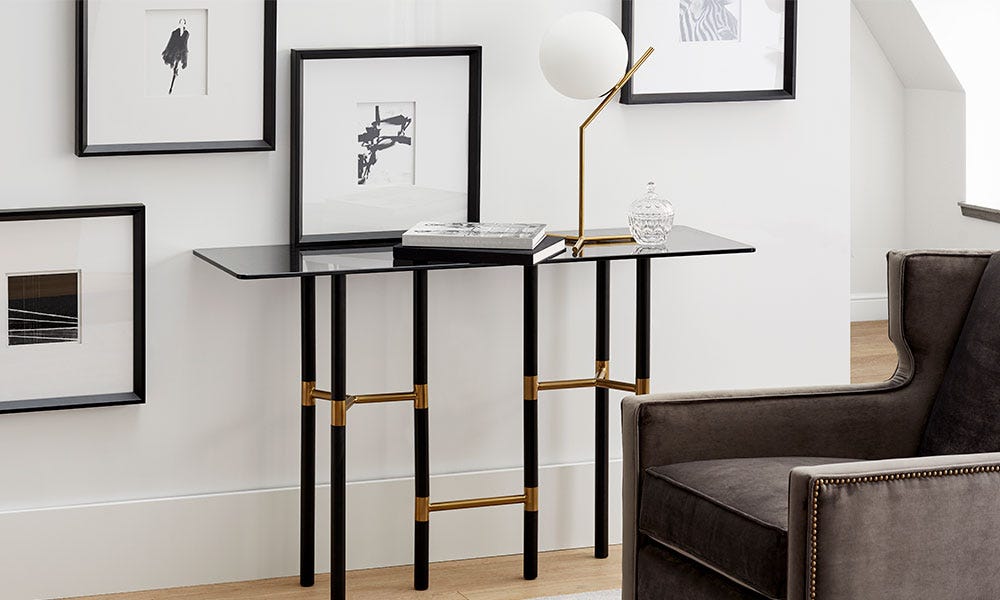 The Alice lamp complements this modern space and highlights the frames when lit up.
The concept: Create a sense of style at first sight with a soothing tone and tasteful decor in your entryway.
The perks: Classic, contemporary, crafted from brass… when it comes to lighting, there is plenty of choice and something for everyone. A lamp's shade in particular plays an important role in diffusing light, as well as highlighting a work of art or a styled section of a room. With a frosted globe like the one seen on Alice lamp, the shade creates a soft and subtle halo, while the perforated metal shade of the Mathilde model gives off a magical glow made up of luminous dots.
The approach: t's important to ensure that the dimensions of the lamp are proportional to the table on which it is placed, especially when it comes to smaller furniture, such as a side table or console. Furthermore, the base of the lamp should leave enough room for decorative objects, not to mention storage.
2. Divine Dining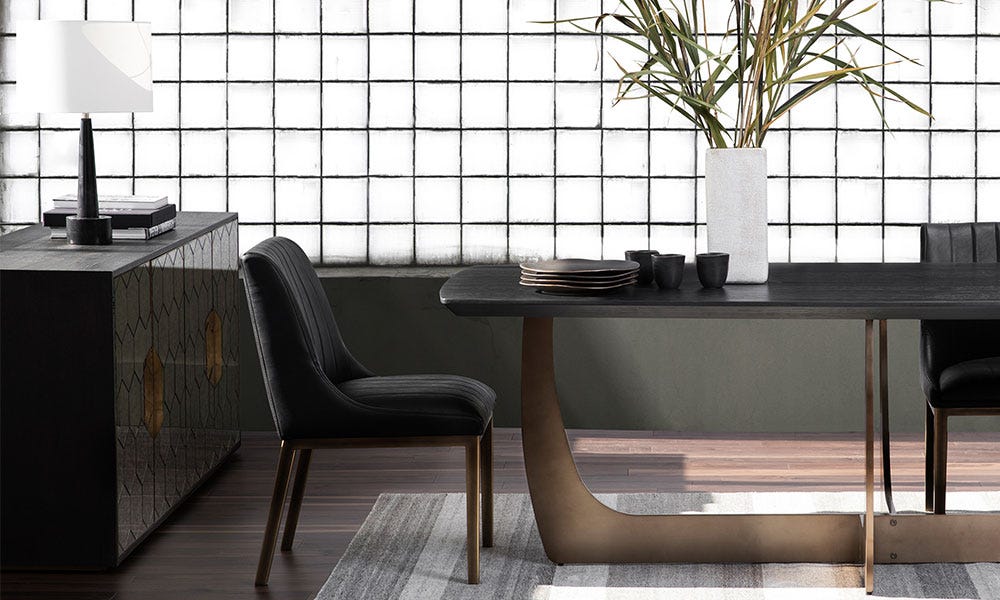 The timeless Briggate lamp catches the eye and adds makes a modern statement on a console or buffet.
The concept: Create a convivial dining atmosphere while enhancing the room's decor.
The perks: A lamp topped with a classic shade gets a contemporary update with a tapered base. That's the Briggate model, made from black marble and an antique brass veneer. The mix of contrasting shades will elevate any sideboard or console, while highlighting decorative objects like candlesticks in a dressed-up space.
The approach: A modern lamp stands out as an accent piece on a sideboard and adds a decorative dimension to its functional design. Turn off the overhead lighting, and the lamp can also deliver a pleasant dose of mood lighting at the end of the meal. If space permits, play with symmetry by placing identical lamps at opposing ends of the sideboard or console.
3. Intimate Living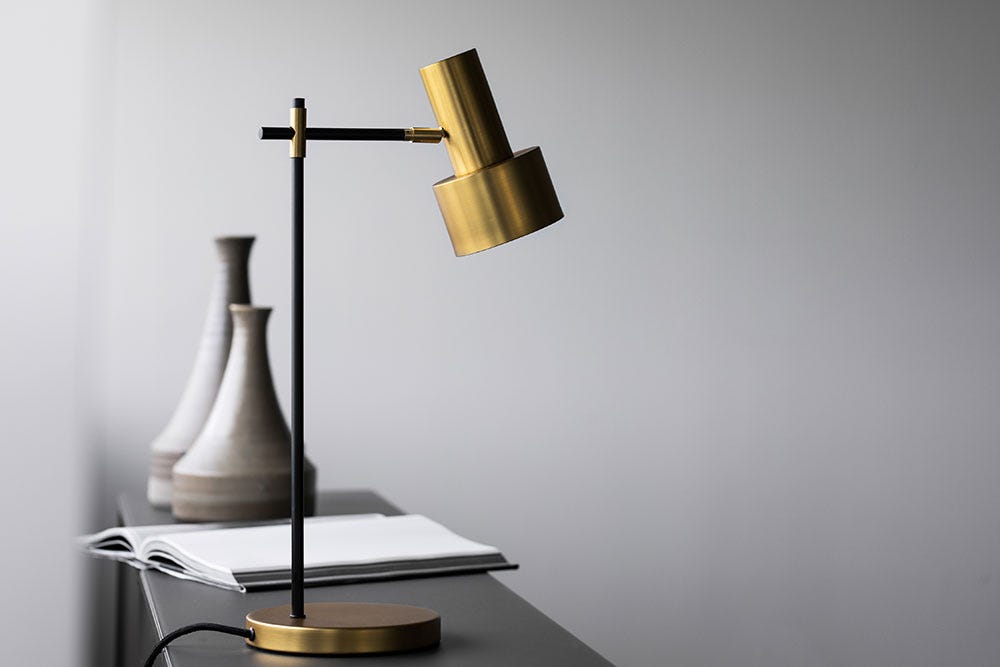 The brass Magnum table lamp generates luminous reflections in a room, even when it's off.
The concept: Choose the number of table lamps and illuminate them to create your desired atmosphere while delineating different areas in a single living space.
The perks: Table lamps fill two types of lighting needs: accent and task. In a corner, placing a small lamp like Magnum on a shelf or in a library highlights the objects around it. Nearby, a larger lamp like the Weaver on a side table serves as both a sculptural element and a reading-friendly light. Lit or not, these lamps will add character and energy to any space.
The approach: Don't hesitate to choose models of different styles to better distinguish the different spaces of your living room. The trick to tying the whole look together is simply selecting similar colours or finishes.
4. Working Efficiently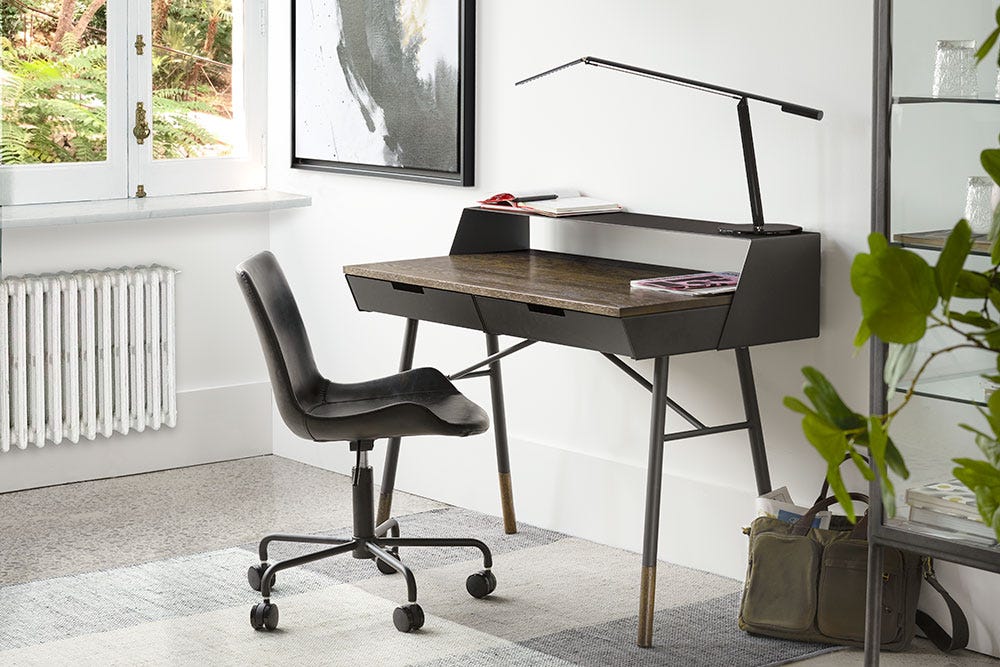 The minimalist design of the Equo LED desk lamp contributes to the contemporary feel of the room. Easy to adjust, this model is an ideal choice for a work station.
The concept: Illuminate your work space and encourage productivity.
The perks: Necessary at night or on a grey day, a desk lamp provides direct lighting in an office, brightens the space and prompts productivity when natural light is lacking.
The approach: With tilting or swivel heads, table lamps like the Cardiff and Equo offer adjustable lighting you can tailor to meet your needs without overwhelming your office space. Cardiff brings a touch of industrial chic, while Equo was made to complement a contemporary space. Equo also comes equipped with an LED device that's ideal for a work space thanks to its energy efficiency, durability and longevity. Better still, it even gives off a bit of heat.
5. Soothing Sleep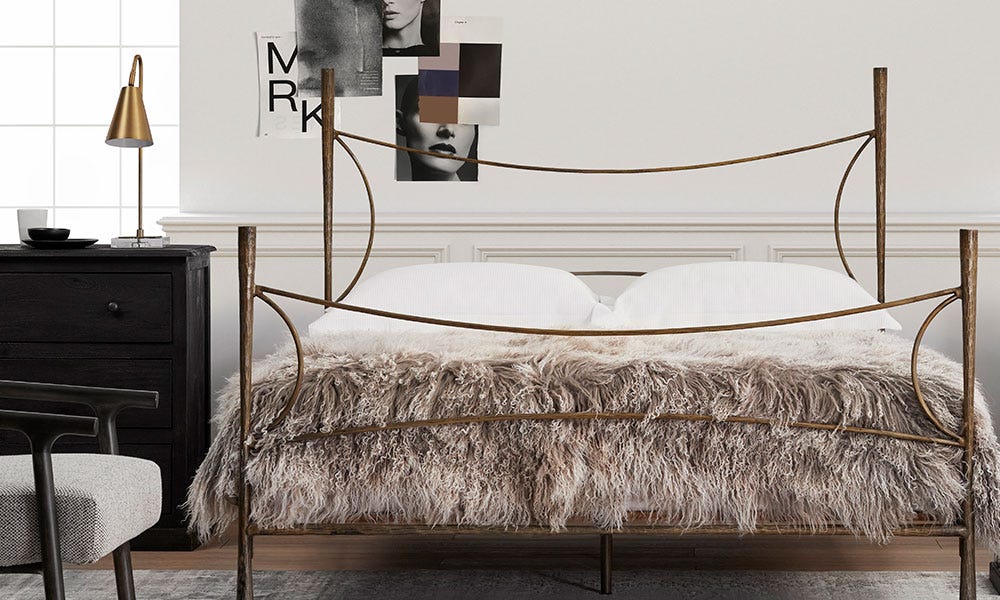 A clear acrylic base adds a refined touch to the Brillion lamp, which is crafted from brushed brass alloy.
The concept: Choose a space-saving bedside lamp that can serve as a localized reading light.
The perks: The dim light of this table lamp promotes rest and relaxation, while still offering enough brightness for reading. By choosing a curved model like Brillion with a handy swivel head, you can easily adjust the lighting to suit your needs.
The approach: Look for a lamp with a narrow base that will leave enough space for a book, a pair of glasses and other useful items you want to keep within reach on your nightstand.