Among its many iconic designs, Ligne Roset is well known for its quilted Togo sofa, which just so happens to be celebrating its 50th anniversary next year. As the iconic French brand has been a collaborator of Maison Corbeil's for more than 40 years, we took the opportunity to chat with Antoine Roset, Marketing Director and heir to the esteemed house, during his recent visit to the Montreal boutique. Here's what he had to say on the past, present and future of the brand.
You have stores in Toronto, Quebec City and Ottawa in the past four decades. What do you think makes Ligne Roset so successful in Canada?
A collaboration between two families…. A desire on the part of the Corbeil family to work with the Roset brand when we were already distributed across Canada at the time. After more than 40 years of partnership, we have reached a certain maturity, we have opened stores together in Eastern Canada because we understand each other and work well together. And then, we can also explain our success by our expertise: we are a leader in the world of design and high-end furniture thanks to our collaborations with renowned designers, the quality of our creations and our unique French touch.
Ligne Roset recently celebrated its 160th anniversary. The success of the brand spans several generations, and you are part of the fifth. What can we expect from Ligne Roset in the years ahead?
My role today, after fifteen years in the Roset group, is to bring a vision, together with my cousin Olivier, that leads the company into a new chapter. My father and my uncle devoted themselves to international development, elevated design, collections….
As the fifth generation, we want to develop and grow the brand by embracing the challenge of digitalization, while preserving its quality and production in France.
We have the Ploum sofa here with us in-store. In Ligne Roset's Sofa podcast, you mention that it was your favourite place to bottle-feed your children at night. Is it your most beloved piece from the Ligne Roset collection?
It was my favourite sofa because it was the only one I had in my living room! It was very comfortable and convenient. It is true that I spent several nights there with my children. I don't know if it was very safe, but we fell asleep on it. I don't know if it's my favourite-favourite, but it is at the top, because when it comes to our collections, I can't say I have one single favourite designer or product. What makes Ligne Roset's DNA is the sum of its collections and designer collaborations.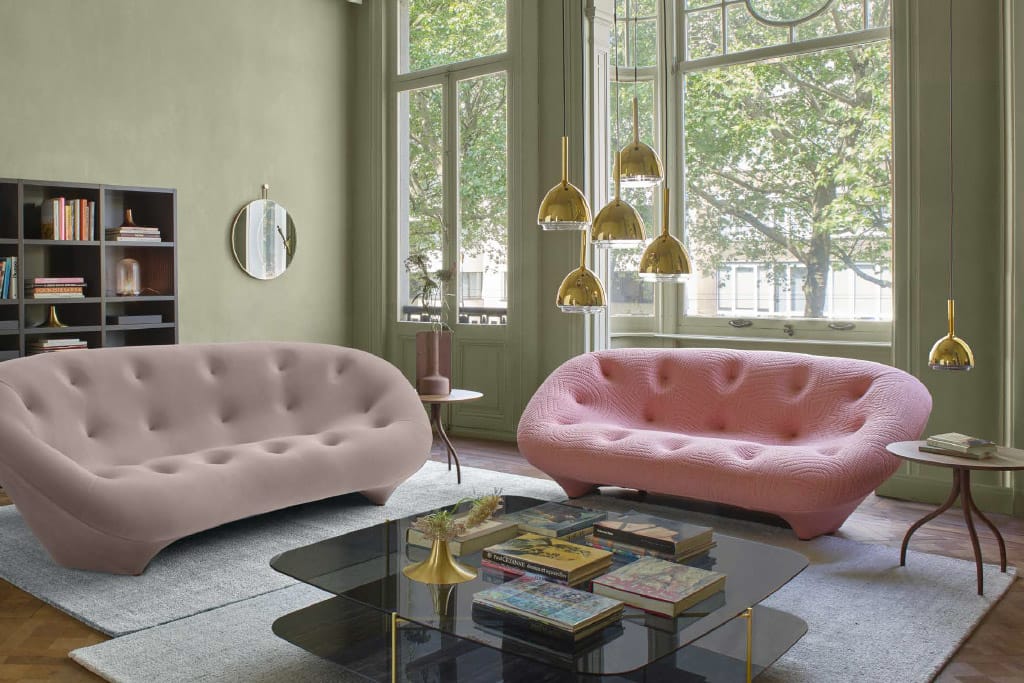 Ploum sofa from Ligne Roset
Are there any designer collaborations that stand out to you?
We have several partnerships—they are part of the definition of the brand. We seek to work with designers over a period of time. We share a common goal, that of design, to develop projects. We currently have a great collaboration with designer Philippe Nigro. We presented his new set of Marechiaro bookcases at our new product showcase at the Palais de Tokyo. This extraordinary collection will be available in-store soon.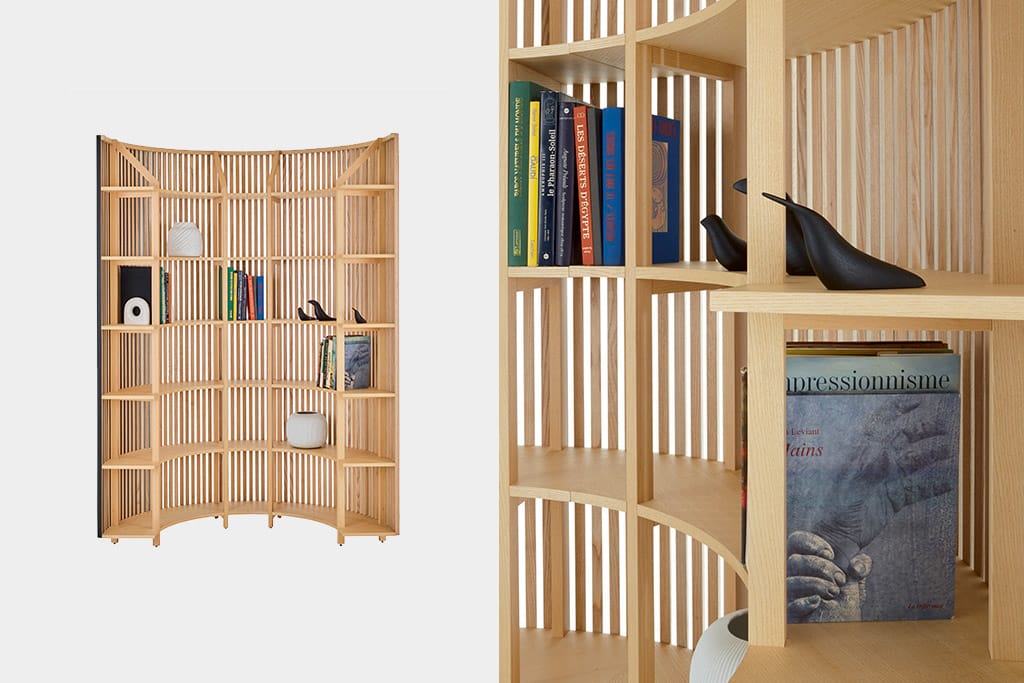 Marechiaro Shelving Unit from Ligne Roset
This coming season, you feature long-time collaborators such as Marie Christine Dorner and Philippe Nigro, along with newcomers like Sebastian Herkner. Tell us about how Ligne Roset works with its various designers.
We're among the lucky few to do what we do. In France, we are one of the few large-scale companies to manufacture, issue and distribute high-end contemporary furniture, with the goal for innovating and pushing our design ever further. Everything is also a question of networking. Over time, we have built a reputation and established great connections. We recently collaborated with Yabu Pushelberg, an amazing studio based in Canada. It all started with a breakfast in Milan, when we discovered we had a similar way of approaching design and got on well. Then one day they offered us the designs of the Pukka armchair, which fit well with the DNA of our brand and has had great commercial success. We continue to work together on new products, and I hope to continue to do so.
Pukka armchairs and footstools from Ligne Roset
Ligne Roset sofas are synonymous with comfort and a welcome feeling. The designers with whom you are currently collaborating seem to perpetuate this ideal, as we see it reflected in new arrivals like the collection of Taru sofas. Tell us more about Ligne Roset's latest products.
For me, design means making an everyday object better and more beautiful. As a high-end brand, we have the ability to enhance any product, at every level. For the Taru collection, the idea came from Sebastian Herkner to have a small sofa with many seats. Its look is interesting, it is very particular in terms of design with its stubby, elephant-like legs, which inspired the product's name. Our expertise stems from our synergy with renowned designers and ability to offer comfort. The non-conformist look is one facet of the product, but its appeal is also in the comfort and quality of its materials—and that is what we want to continue betting on for the next few years to come.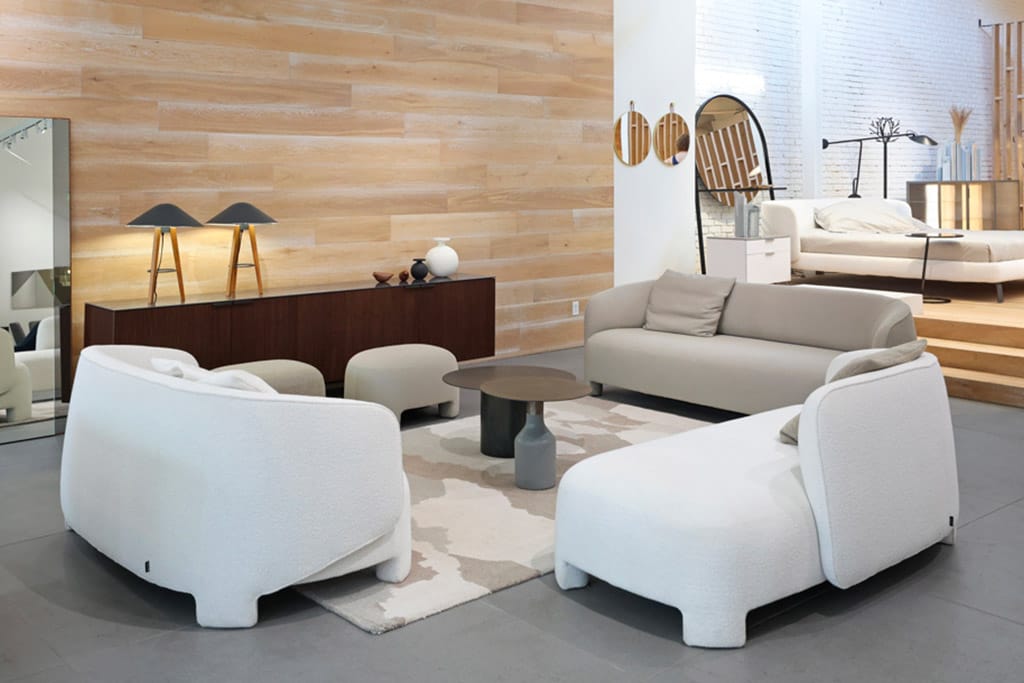 The Taru collection at the Ligne Roset store in Montreal
To learn more about Ligne Roset, explore the collections online or visit a store in Montreal, Quebec City or inside Home Société in Ottawa and Toronto.