The perfect sofa is out there.
So, you've decided to buy a new sofa. Not sure how to go about choosing THE best sofa — the one that fits perfectly with your lifestyle and tastes? Our experts share their advice.
A daily necessity, your sofa is the focal point of your living space. Beyond the basic criteria that will allow you to make a lasting choice, your lifestyle and tastes should also guide you in your search for the perfect sofa. So, how can you choose a sofa that best suits your needs? Consider the look, size, style and comfort — then decide which factor is most important to you.
Style.
« Fashion goes out of style. Style never goes out of fashion. »
– Coco Chanel
If, for you, style rises above all else, then take your picks of trends. The advantage is you'll have countless options to choose from. Dare to give in to love at first sight and opt for a sofa that gives you a thrill.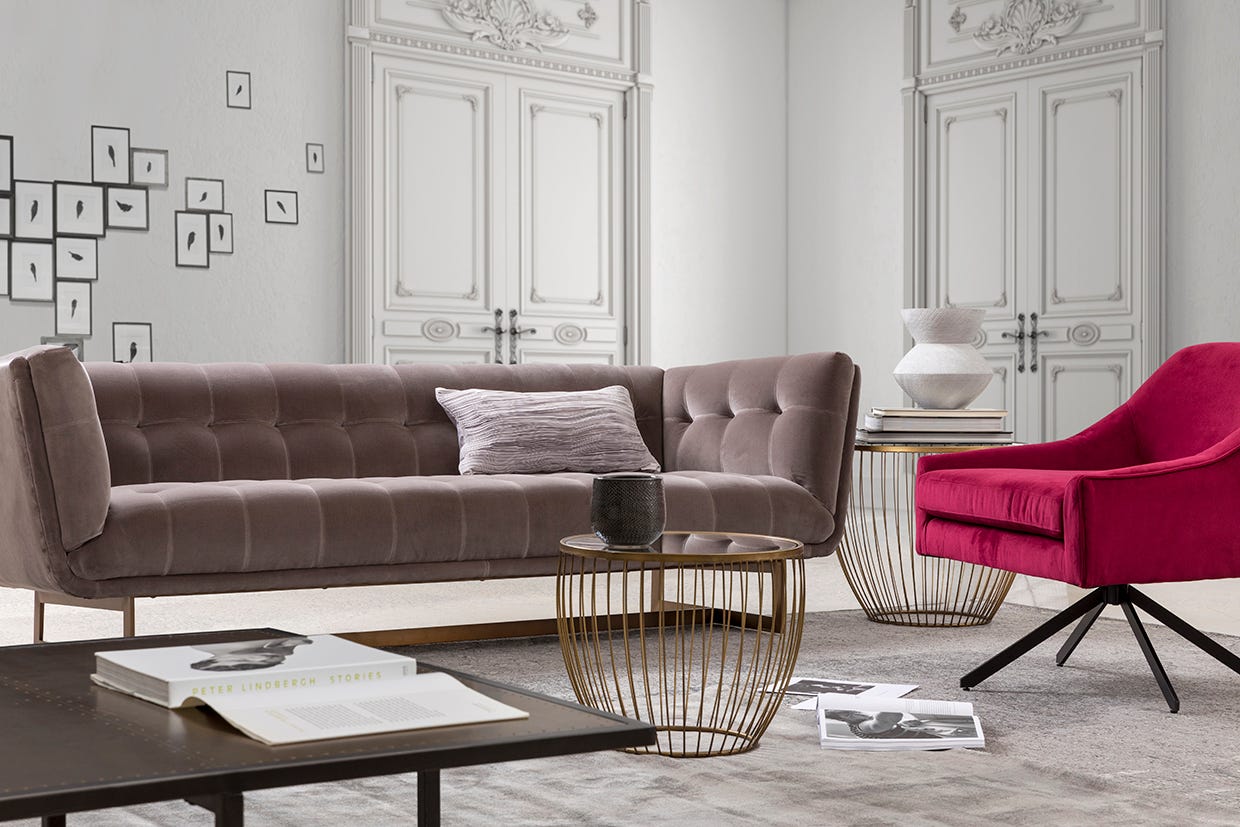 CENTENNIAL – a shelter sofa that's retro and refined.
Embrace a contemporary version of the shelter sofa. With rounded corners and sloping armrests, this sofa style exudes elegance and sophistication. Built on a modern metal base, it brings an exceptionally chic touch to your living room with its tufted velvet upholstery.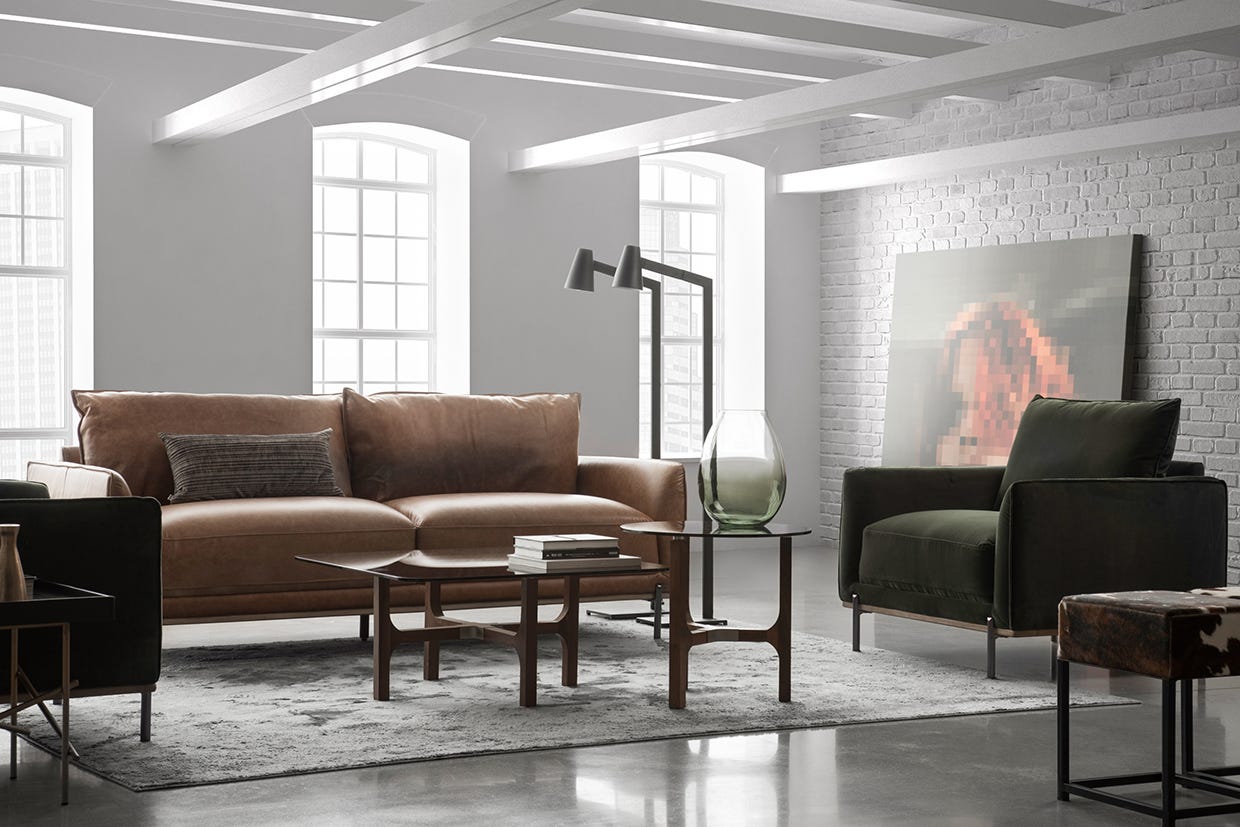 ASTANA – a genuine leather sofa that's stately and elegant.
The right leather sofa never goes out of style. Equipped with comfortable seat cushions and large backrests, it looks stately and elegant without compromising on comfort.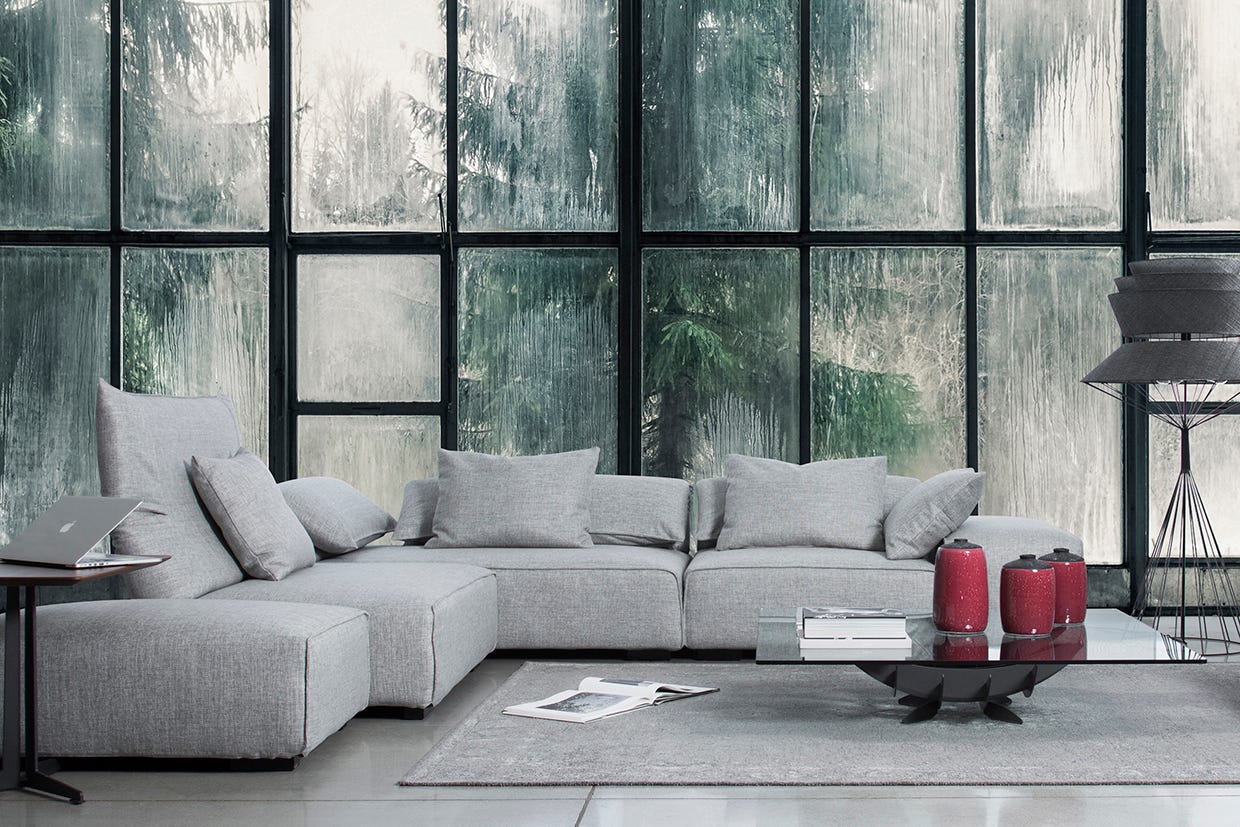 NAPA – a sectional sofa with reclining backs that's refined and unique.
For a clean look, a grey sectional sofa offers great value, guaranteed. This one features innovative backrests that tilt elegantly inward.
Space.
« Be it ever so humble, there's no place like home »
– French proverb.
Before browsing the many sofa models available, be sure to evaluate the available space you have first. Another helpful tip is to mark your preferred sofa placement on the ground and note the dimensions to better refine your search.
Think as well about the number of guests you hope to accommodate, and the sofa shape that will best fit your layout.
A corner sofa, a standard sofa, a sofa bed and an armchair style all have very different dimensions ...
For a small space…
In a small space, a two-seater sofa is ideal — ideally without armrests, to reduce the amount of space it occupies, and, if necessary, allow for a third person to sit. Equipped with removable backrests, this small sofa features a silhouette that can be positioned anywhere in the room to optimize the space. It also transforms into a day bed.

FACETTE – a two-seater sofa with removable backrests.
For your palace…
In a larger living room, there's nothing better than a modular, low-backed sofa to break up the space. With wide armrests and adjustable headrests, a sectional sofa like the Chicago can be configured to your taste for a personalized approach to comfort.

CHICAGO – a modular sectional sofa with low backs and wide armrests.
Comfort.
« A man travels the world over in search of what he needs and returns home to find it." »
– George Moore
Is the sofa your all-time favourite place? Then you no doubt need a cozy couch. If you plan to spend hours at a time on your sofa, be sure to pick one that provides you with adequate support.
It doesn't get any more comfortable than this. At once cozy and able to provide the necessary support, Kibo has everything you need for a seating experience that's beyond compare:
generously padded back cushions;
a main cushion crafted from memory foam;
an upper layer padded with feathers.

KIBO – a comfortable sectional that's cozy...and just firm enough.
Solitude.
« Solitude is an art. »
– Vilhelm Ekelund
Because sometimes you need to spend a little "me time" alone, you can always count on an armchair as the perfect seat for one.

TRONES – a minimalist armchair that's luxurious and innovative.
Tech lover? This luxurious chair combines comfort and innovation to offer you the ultimate seating experience. With the help of a crank and control button, you can activate the footrest and tilt the backrest without minimal effort.
Real life.
« Nothing compares to reality »
– Gabrielle Roy
Because at certain stages of life you have to face reality, sometimes it's necessary to take practical considerations into account. This is probably the case if you have young children or pets. Avoid unwanted headaches by opting for a sofa with removable cover. It will make maintenance — and daily life — that much easier.
As its name suggests, the Chill sofa is made for relaxation with its cozy seat and minimizes the need for constant care. It is fully covered in removable fabric, which allows for easy cleaning and maintenance. Choose "shabby chic"…and peace of mind!

CHILL – a cozy couch with a removable cover.
Follow your instinct.
When searching for the perfect sofa, it's always wise to ask for advice and to consider as many factors as possible before determining which sofa to choose. At the end of the day, though, remember: you're also the expert. Follow your instinct! Browse all our sofa models and pick the perfect sofa — for you.