Forget traditional frames when it comes to dressing up your dining room wall! Here are four design ideas that will add character to your space in a completely unexpected way.
1. Standing Mirrors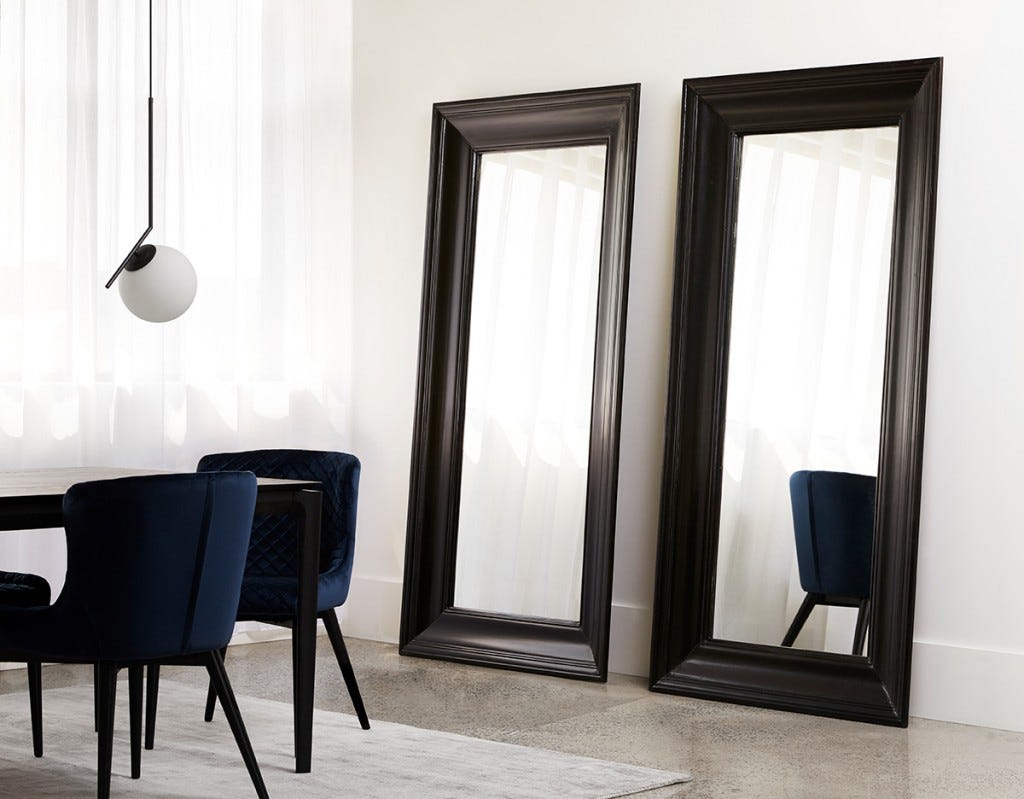 In this arrangement, a pair of standing mirrors highlights a set of Loren velvet chairs.
The idea: Create maximum impact in your dining room using two oversized mirrors.
The advantage: Efficient, easy to install and versatile (there's a style for everyone), an oversized, freestanding mirror is a timeless accessory for design-minded people who are bold enough to integrate it into any space — including a dining room! What's more, extra-large mirrors will create the illusion of grandeur, enhance the light and add some depth to your decor.
The approach: Place two large standing mirrors against the wall, side by side. With twice the reflective surface, any adjacent furniture will stand out even more. For added panache, opt for extra-large frames.
The faux pas: Choosing the wrong wall! Be sure to reflect a distinctive element in your dining room, like quilted velvet chairs. If light is a priority, avoid smoked and mercurized mirrors.
2. Majestic Wallpaper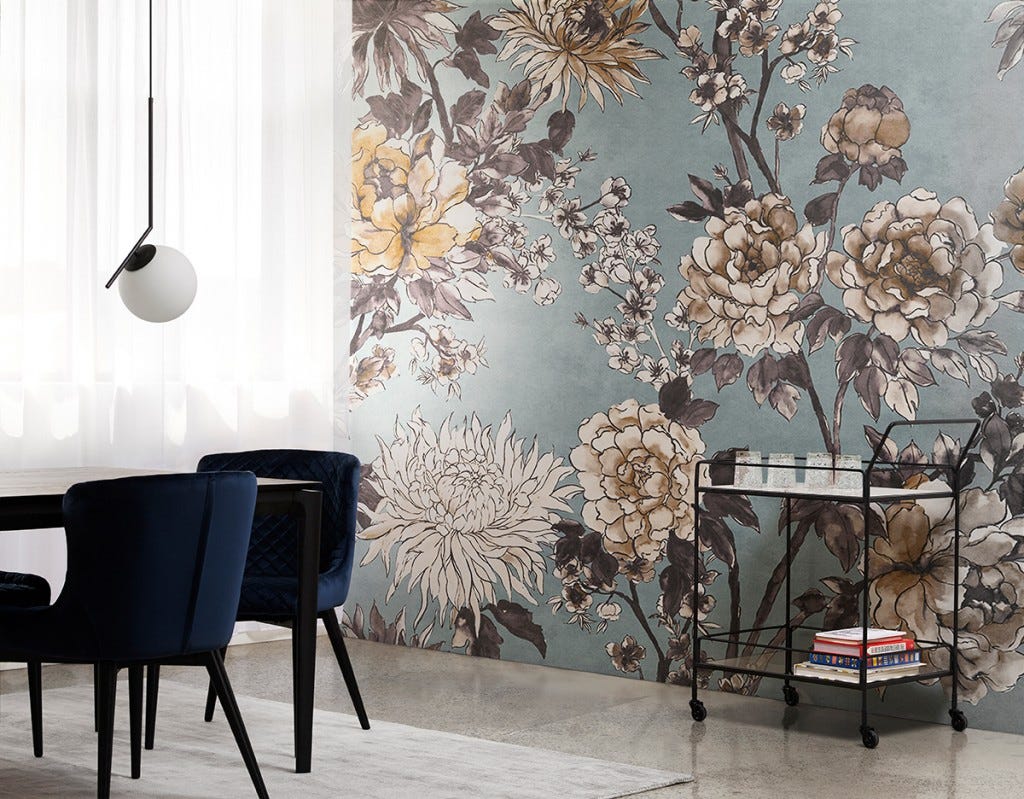 A wallpaper with a giant floral motif catches the eye and complements the contemporary style of this dining room.
The idea: Give your dining room an accent wall to create a striking visual effect.
The advantage: Whether you're making a large room more intimate, adding colour or creating some contrast, a functional wallpaper is a great way to inject your dining room with a dose of personality and pizzazz. The perfect complement to your decor, it will allow you to show off your style in a standout way!
The approach: Choose a single wall or section of a wall to feature. Select a wallpaper with a strong and eye-catching pattern, like those by LondonArt. Then, pair it with glass-accented furniture to maintain an airy and fluid look.
The faux pas: Overloading your space with too many colours and patterns at the risk of diminishing the desired impact. Instead, draw inspiration from your decor palette in order to select your wallpaper, then pair it with solid hues.
3. Twin Shelves

Placed in a pair, these slender shelves fill the wall while preserving the dining room's sleek look.
The idea: Switch up your buffet or side table by creating a focal point with a set of tandem shelves.
The advantage: Arranged in pairs, open-storage shelves are a current favourite among interior designers! Thanks to the clean lines, a set of sleek shelves will adorn the wall without stealing the spotlight from your dining table set. Matching shelves also provide an interesting way to personalize your space, allowing you to showcase the stunning objects of choice, from works of art, plates and books to frames, plants and more.
The approach: Place two identical shelves side by side. To decorate, start by placing larger objects and creating asymmetrical effect, then complete the look with smaller accessories.
The faux pas: Spoiling the look with too many pieces or mismatched styles. Accessorize sparingly!
4. Oversized Art
An oversized piece of art is the perfect accessory for decorating a wall in a simple, yet striking, way.
The idea: Enhance your dining room decor with a giant piece of attention-grabbing art.
The advantage: Packing a stylish punch, an oversized canvas commands attention and instantly sets the tone. It's also an all-in-one pick that combines creativity, practicality and style. Likewise, a massive reproduction, like those that can be made to measure at NumerArt, offers an elegant alternative to traditional table settings and frame arrangements.
The approach: Choose the ambiance you want to create and select an image that reflects your tastes, whether it be travel, nature or photography. Set your canvas on the floor and lay it against the wall (à la artist's loft) or hang it as you would in a gallery. Either way, you will be sure to wow your guests.
The faux pas: Hanging the canvas at the wrong height! As general rule, place it at eye level (approximately 65 inches from the ground).
When creating an accent wall, get out of your comfort zone by embracing large-scale designs and placing furniture in pairs!