Working magic in every room of the house, accent chairs are the ultimate mix of function and style. Pulling a space together while providing additional seating, these powerhouse pieces let you push the design envelope without sacrificing your practical needs. Here are four key elements to look for when choosing an accent chair.
1. Texture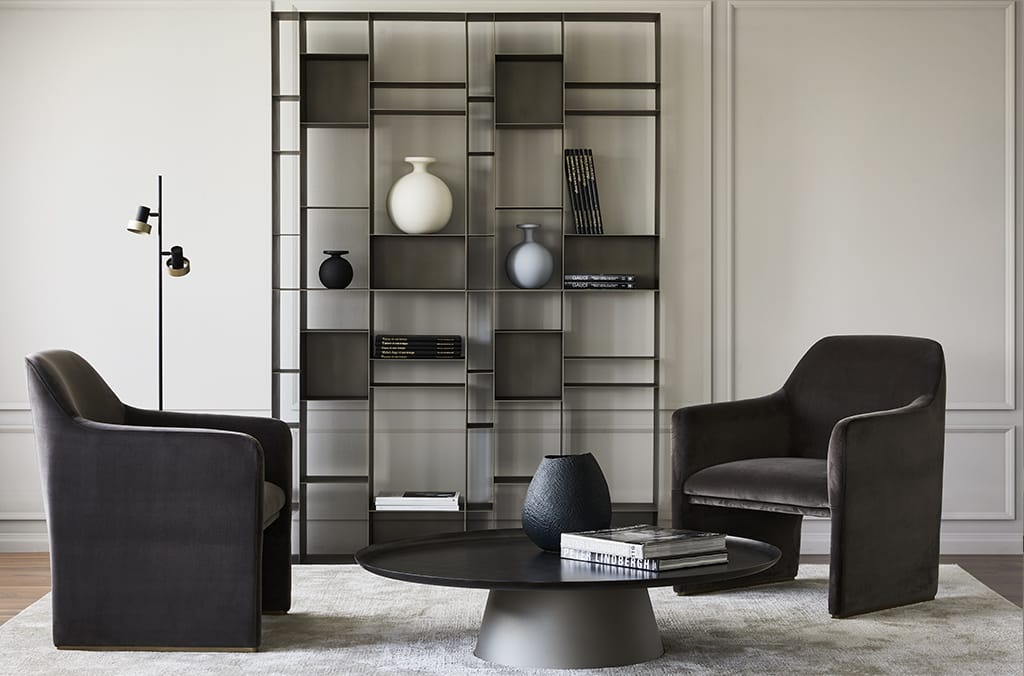 The Dorene armchair complements this modern space and gives dimensinon to the room.
Decor without texture is like a dish without seasoning. And while cushions, rugs and throws are always a foolproof choice, an accent chair with a tactile finish is a unique and impactful way to bring visual interest into a room. Look for a cozy bouclé fabric chair like Gloria, a sleek fabric seat like Dorene, or wicker elements, as seen on Britt, to create a warm and inviting effect in your living or bedroom. Likewise, a leather chair like Shabby will infuse any dining room or vestibule with instant polish, while Rotterdam's tweed upholstery is an effortless option for adding a textural note to an office or reading nook.
2. Function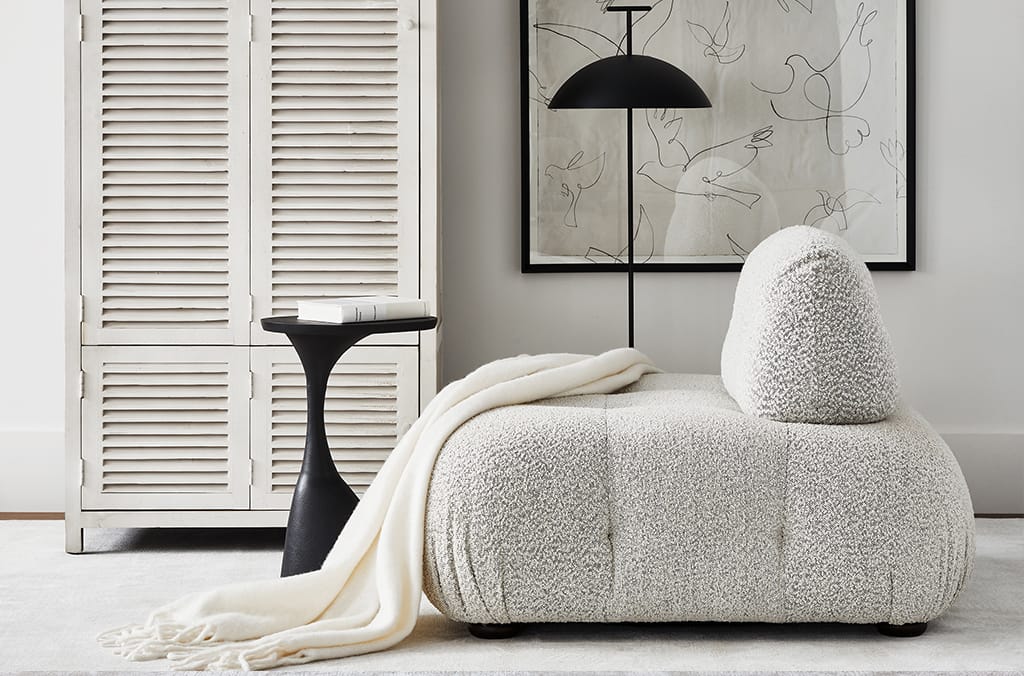 With Arctic armchair's low profile and removable backrest, it can adapt to any occasion by transforming from a lounge chair to ottoman in an instant.
Aside from serving as a fabulous focal point in any room, accent chairs offer an array of functional features, too. There are padded chairs with adjustable headrests like Arctic for supple comfort that adapts to your needs, inclined models like Blacc for leaning back with ease, and swivel chairs like Rocobar and Faye for pivoting yourself in any direction you please. An enveloping swivel chair like Doppio, meanwhile, offers the best of both worlds, and let's not forget ergonomic designs like Time Out for the ultimate in sustained support.
3. Colour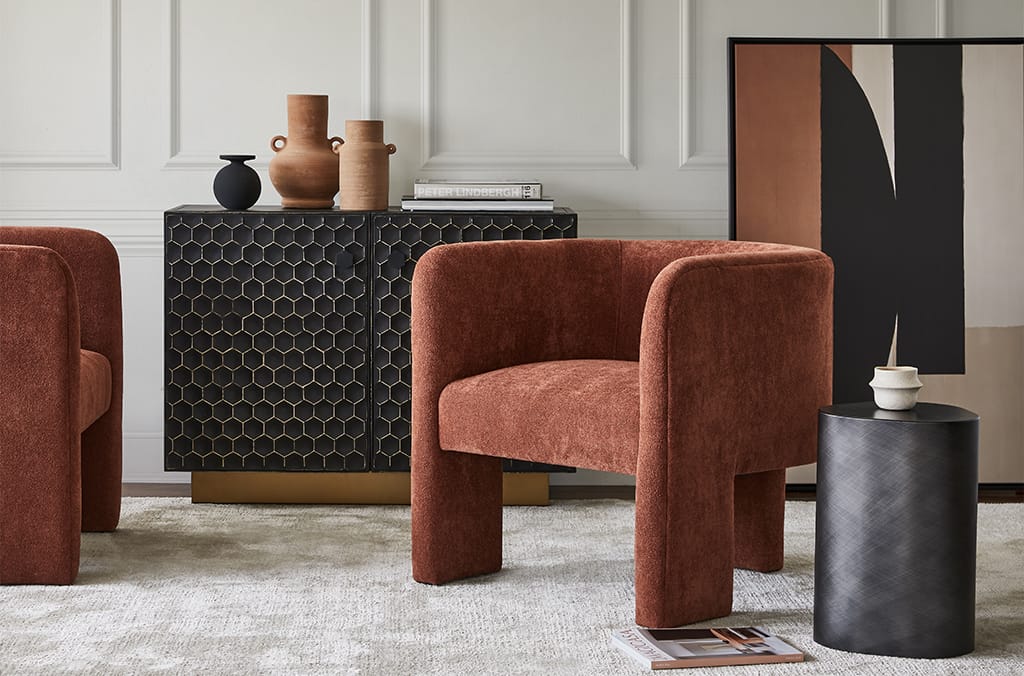 The soft rust color of Trilogie armchair adds a subtle brightness to the room.
If accent furniture is all about creating emphasis, what could be more striking than a vibrant statement seat? A pop-of-colour chair such as Clémentine will brighten up a neutral tone living room on spot, whereas a model in a regal shade like Sara will dramatically enrich a monochromatic space. When it comes to adding character via an accent chair, don't discount deeper tones like Apia's pine-green velvet, Trilogie's soft rust, and Dione's navy chenille fabric upholstery. A refreshing alternative to classic beige and black, these more subdued shades can enhance your space with a surprising look all their own.
4. Shape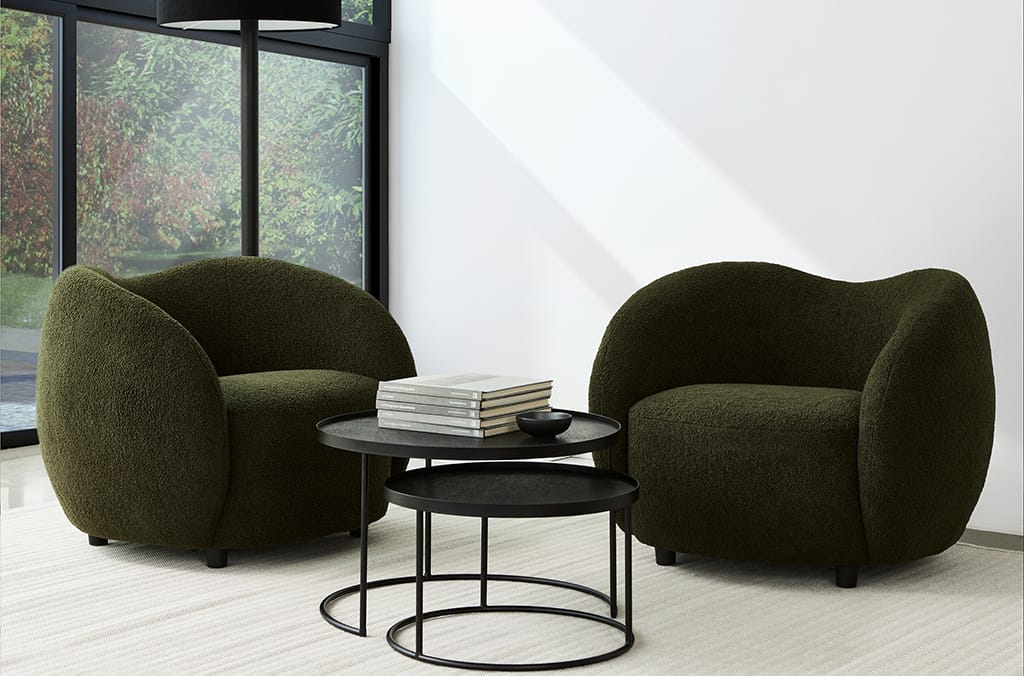 The Teddy armchair has a unique shape, with a heart-shaped backrest enveloping a round, generous seat, it's sure to stand out.
Today's accent chairs have moved beyond their traditional image to emerge in an array of fresh styles and forms. From modern, modular incarnations like Calvi to fluid statement makers like Marina, there is no shortage of shapes to transform any space. Consider, for example, a curved seat like Sofia to soften the look of linear decor, or the shapely Teddy chair to add volume and character to an otherwise simple setting.