Seductive curves and rounded silhouettes are reigning supreme in the furniture industry and infusing interiors with fresh energy. French design brand Ligne Roset, for one, has mastered the many subtleties of these fluid forms currently inspiring interior decorators. Read on to discover the sofas and other legendary seats of a furniture maker well ahead of its time.
At the most recent design fairs—the major events featuring the latest and greatest in furniture and accessories—decorators and trend hunters couldn't help but notice the ubiquity of curves.
So, it's little wonder the gentle geometry of rounded forms is currently taking over our homes, particularly in the living room, where curved seats — be it sofas, sectionals, armchairs or ottomans — bring a soft new dimension to our decor.
Indeed, these rounded silhouettes add a supple and sophisticated air of relaxation, along with a more organic and fluid aesthetic, to any space.
Swathed in deep jewel tones, such as emerald and ruby, these pieces can even infuse your living room with an Art Deco appeal.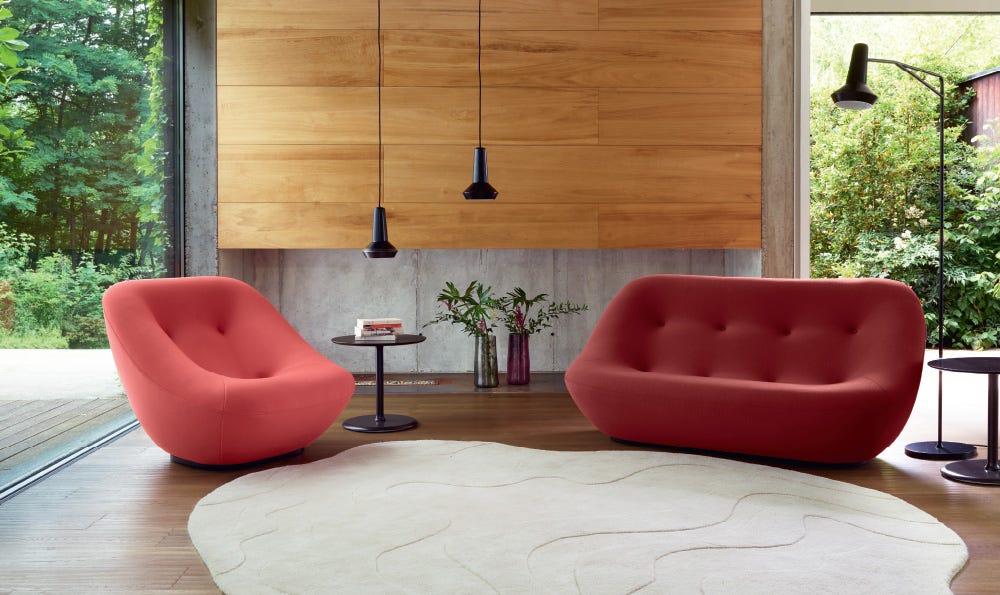 Christened BONNIE, this armchair is a creation of designer Pierre Paulin that dates back to 1975. Ligne Roset reissued the style in 2018 thanks to a rare model acquired on the collectors' market.
That said, the revival of rounded forms led by such sofas with pronounced curves looks even more energetic and refreshing when coupled with another key trend of the year: bright colours, such as coral and mustard yellow. Of course, natural shades are also in order this season, but perhaps the more daring among us will be inspired by Memphis style and opt for pops of colour instead.
Whatever shade you choose, curves no doubt inspire relaxation, intimate conversations and comfort, all of which require unparalleled proportions.
And, when it comes to comfort, and curvilinear style, there's no denying the expertise of Ligne Roset — a family-run business with a history of designer collaborations and cult-sofa re-editions.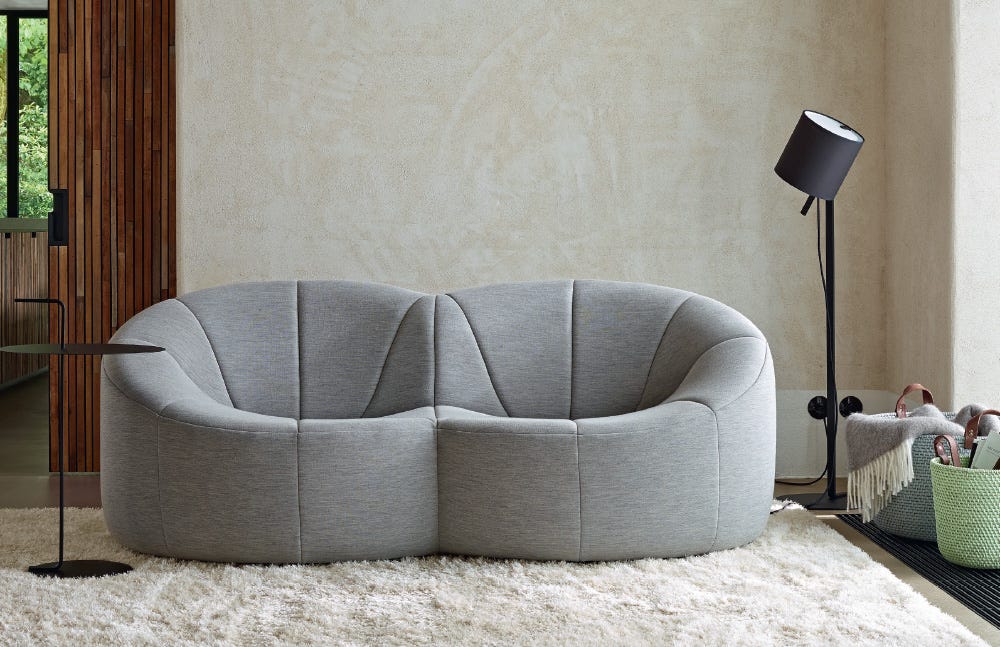 Inspired by the rounded fruit that bears the same name, this protective and comforting shell is PUMPKIN, another creation of French designer Pierre Paulin produced by Ligne Roset.
The Organic Forms of Ligne Roset
Recently relaunched by the brand, the "new" BONNIE armchair embodies today's top trends in living room furniture, even though it's a creation of designer Pierre Paulin that dates all the way back to 1975!
The BONNIE is available as a sofa or pouf, in different upholstery fabrics ranging from leather to jersey. It's in fact possible to customize the majority of Ligne Roset's seating options, including the fabulous RUCHÉ collection by French decorator Inga Sempé, which stands out with its checkered padding reminiscent of the quilts of yesteryear. ("Ruching" is a sewing technique that involves gathering or pleating a fabric.)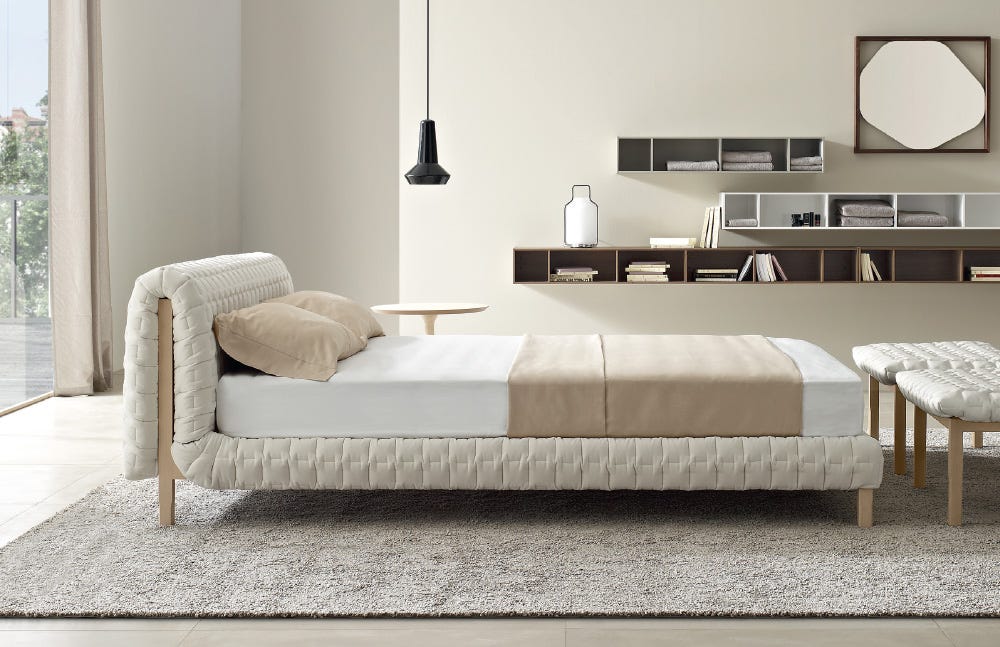 With its unusual shapes and mix of materials, the RUCHÉ bed is perfect for adding a classic texture touch to your decor.
It's important to note that trimmings and quilting are at the heart of Ligne Roset's expertise, upon which the brand is constantly improving through the research on padding techniques conducted by Michel Ducaroy (a.k.a. the head of Ligne Roset's design department from 1950–1970).
When it comes to aesthetics, Ligne Roset is characterized by a stunning and elegant creativity that challenges convention, sometimes through pops of colour, and sometimes through serene minimalism.
No wonder the brand is behind so many cult sofa designs. For good reason, the brand produces no fewer than a hundred new products each year, always in collaboration with design's greatest minds.
Contemporary Design Editor
Today, more than 70 creators collaborate with Ligne Roset. And indeed, the brand's constant dialogue with designers, which has been ongoing for decades, has given rise to original creations that incorporate seamlessly into any space. True icons, to be sure.

Fluid lines, rounded forms, shapes that invite relaxation and intimate conversations…the PLOUM sofa embodies today's top trends in living room furniture.
A partnership with Ronan and Erwan Bouroullec, two important figures in contemporary design recognized for their incomparable originality, perfectly illustrates Ligne Roset's commitment to artistry as well as its mission to dare to create innovative design for all.
Launched in 2011, the comfortable PLOUM sofa, the first Bouroullec brothers design for Ligne Roset made of soft foam and stretch upholstery, has become a timeless classic.
Part of a collection that has earned international success, the sofa allows for different seating (and napping) positions thanks to its voluminous silhouette. As the brand poses in its PLOUM ad campaign, "Is it gravity or attraction that keeps me here?". Surely, it's both.
Between the Unusual and the Traditional
Few brands can claim the title of "visionary," but Ligne Roset is one of those brands, without a doubt. The story of this family business began in 1860, when the company started producing umbrella canes, followed by chairs. In the 1950s, the French company made its official debut in the world of commercial furniture, betting, somewhat prophetically, on an avant-garde approach and collaborations with prodigies of design.
Indeed, the brand's first achievements were created in collaboration with an emblematic figure of modern French design: Jean Prouvé. As with architects and industrial designers, conceiving, drawing and producing, without ever copying, is the modus operandi. So, not surprisingly, when Ligne Roset made its official entry into the household furniture market in 1973, it made a splash with a subversive design, the TOGO.
The cult sofa was designed as a huge cushion made for curling up. With its low profile, and flexible, wrinkled fabric, it invites you to sit as you please and adapts to each living room, suiting any taste or mood.
With decor's return to 1970s style, the TOGO cushion seat is more current than ever.
Renowned designer Michel Ducaroy was inspired by a folded-up tube of toothpaste to create this bold innovation and icon of organic modernism.