While fashion always changes, certain furniture stays in style. Think of the pieces that stand test of time, year after year. From impeccable design and incredible comfort to practical features and sculptural silhouettes, discover why these beds, tables and sofas were built to last.
Fashionably functional: Flou beds
When Italian company Flou first launched in 1978, it had one clear goal: to refresh the way people sleep by turning the bed into a piece of furniture that is not only comfortable but also practical. The company entrusted its first model to Vico Magistretti, "It" designer, lover of simplicity, and well on his way to critical acclaim (he won a Compasso d'Oro for his body work in 1995).
He created the Nathalie, which stands out among thousands of beds thanks to the two fastened knots that adorn its headboard. Understated, elegant and subtly feminine, Nathalie was the first fully upholstered bed, and comes with an easily removable cover and adjustable headboard. But it's the storage base, accessible by lifting the box spring rather than opening a drawer (another first!), to which this bed owes its popularity. Handily solving the issue of a lack of space, the Flou came out ahead by betting on modernity. Forty years later, Nathalie continues to charm dreamers and deep sleepers alike.

In 2008, another cult favourite joined the ranks: Angle, created by Rodolfo Dordoni. Its clean lines and impressive upholstered headboard, to which you can add a panel on either side, are synonymous with luxury. A statement piece that's as fashionable as it is functional, the Angle features completely removable covers that can be switched to refresh your decor in a flash.

Revolutionary: Ligne Roset sofas
When he invented the Togo for Ligne Roset in 1973, French designer Michel Ducaroy gave a whole generation a new reason to kick back. He employed the newest materials at the time to create a sofa made entirely from polyether foam, free of any framework or sharp points and able to hug the curves of the body without losing its form. There are no rules when it comes to setting this sprawling sofa in an intimate space like your living room. A revolution in both its manufacturing and silhouette, the Togo is full of folds, reminiscent of a stovepipe or a Shar-Pei. A casual-looking piece that surprises at first glance, it never fails to seduce, having sold 1.2 million units worldwide to date, thanks to its aesthetic blend of modernity and style. This classic piece, a symbol of the art of living that has not aged one bit, now comes in 822 variations of fabric and leather.

In 2011, the Bouroullec brothers — named Designers of the Year at the 2002 Paris Furniture Show — were tasked with designing a new Togo, this time without its distinctive folds. The designers dove deep into their research on comfort, analyzing the strength, flexibility and durability of foams, yarns and quilting methods. They ultimately came up with Ploum, a sofa that adapts to all forms of sitting, stretching and lying down. Its winning attributes? A shape that envelopes the body, evocative of a padded cocoon, with enough space to accommodate up to four people and a sculptural silhouette that makes it a work of art in its own right.

Architectural: Cattelan tables
Is that a sculpture in the middle of the dining room? Believe it or not, it's a table: the Cattelan Spyder, to be exact, with its superb double-X base. Should you happen to see this model, designed by Philip Jackson in 2011, taking over people's homes, that's because of its unique look and the fact that it offers an array of combinations. The base is available in both metal (bronze, titanium, brass, stainless steel, black, graphite and white) and wood (oak, walnut and wenghe). The top, available in several shapes and sizes, comes in glass (the original model), wood (with angled or irregular edges) and ceramic that's made to resemble zinc and marble (with 8 different motifs). Simply customize according to your interior style!

One more table that makes a striking visual impact: Andrea Lucatello's Skorpio, which was released in 2014. Another piece with an impressive, sculptural base, this one evokes a scorpion's tail and offers endless possibilities with a top made from glass (ideal for showcasing the statement base) or wood (for a more industrial style). The only challenge will be choosing a set of chairs — with a piece this stunning, you just might want to do without!

Icons in the making
AAre you a table aficionado? Take note that these two models, launched in 2017 by Cattelan Italia, are already making regular appearances in decor magazines and well-dressed homes: The Roll Round by Paolo Cattelan, which is distinguished by its circular shape and three feet of varying diameters, and the Stratos, which stands on a massive angular base to give the top a light, almost airy, feel.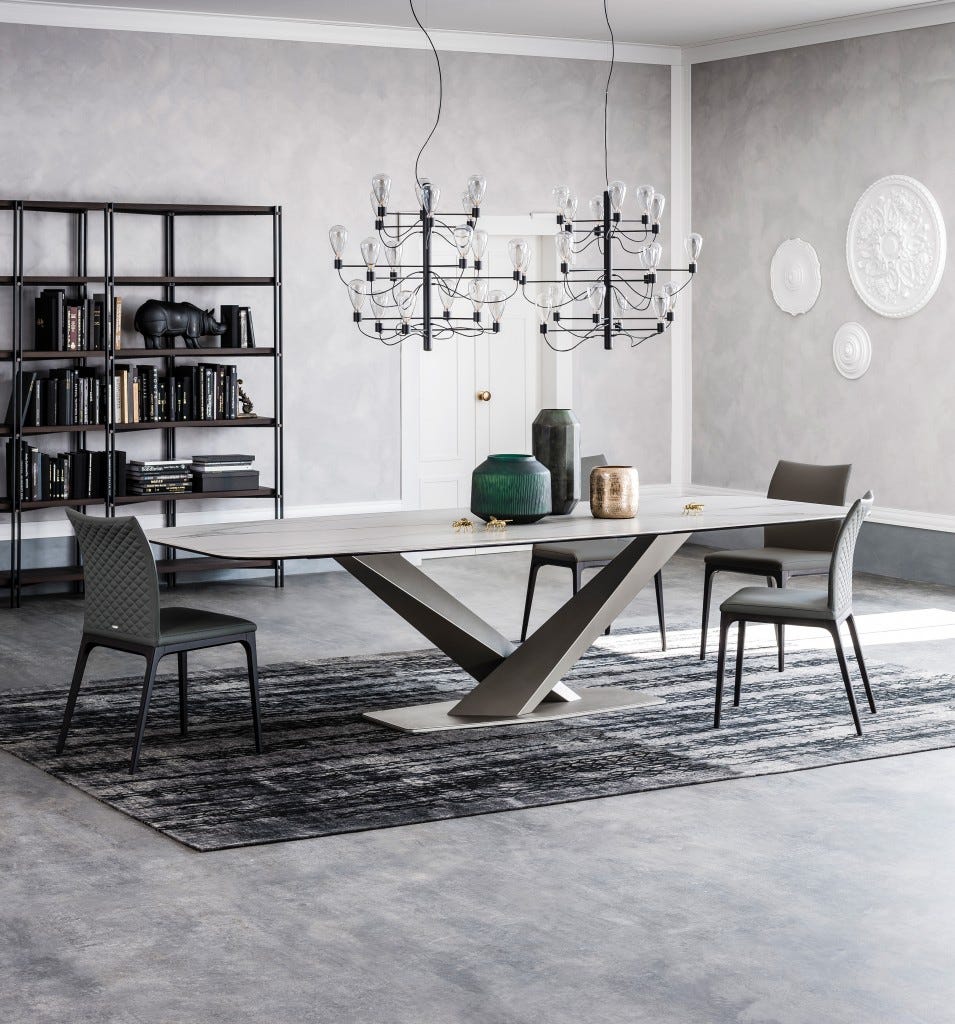 Thanks to its keen eye for iconic furniture, Maison Corbeil has carried these models for years. Visit us in store!