You don't have to travel far to get your fill of decor ideas, thanks to these six North American hotels with interior designs that are just as tremendous as they are on trend.
The Surf Club in Miami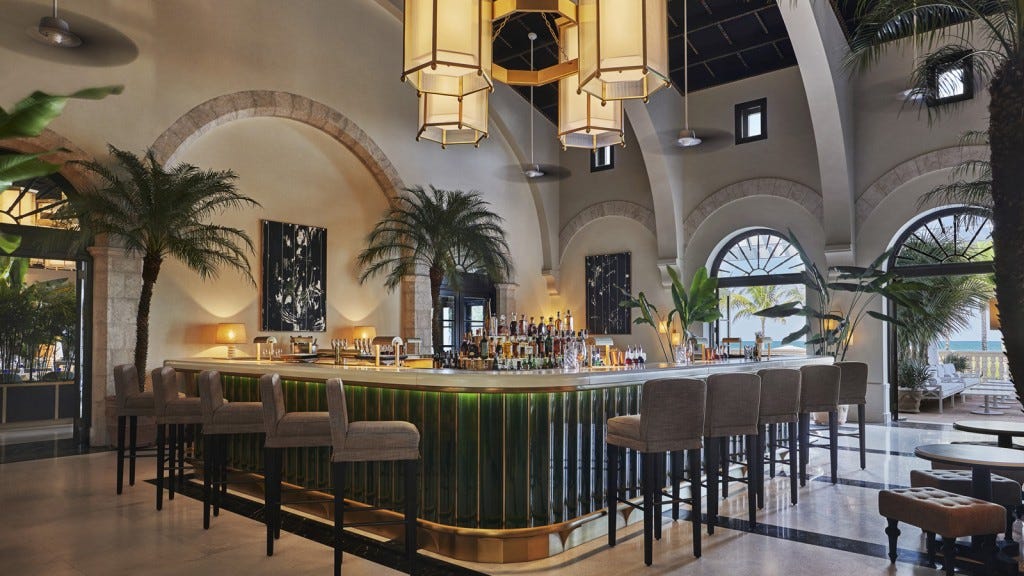 From the green, blue, sandy yellow and pristine white hues to the terrazzo floors and palm trees, everything here evokes the seaside and the luxury of this former 1930s club, once frequented by the likes of Elizabeth Arden, Winston Churchill and Tennessee Williams.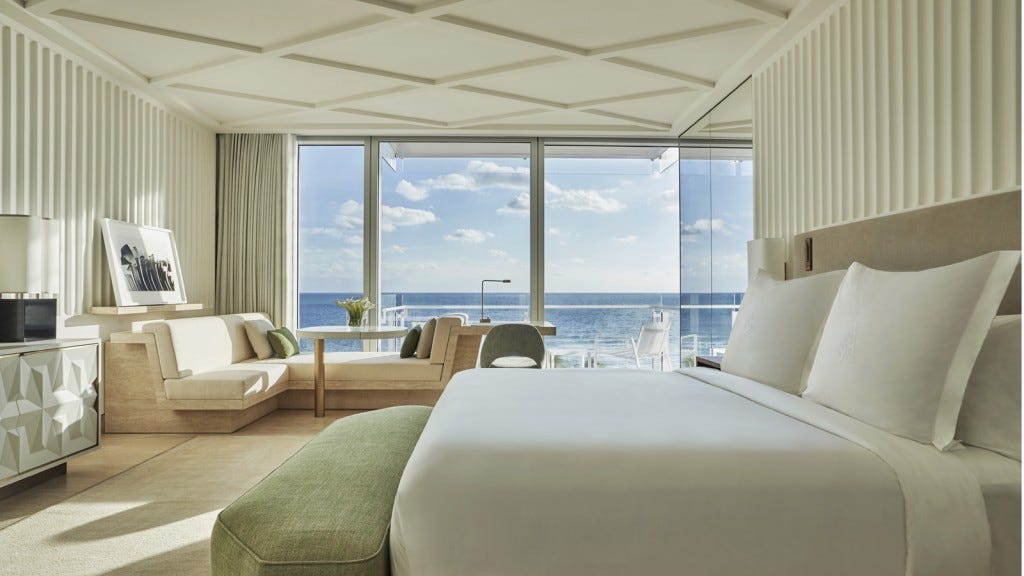 The Surf Club's current owner, the Four Seasons Hotels group, entrusted its evolution into a hotel with two of architecture's biggest names: Richard Meier and Joseph Dirand. The latter, an ultra-fashionable Parisian interior designer, transformed the rooms and cabanas with '70s-style furniture and a minimalist, graphic look, complete with a neutral palette accented with touches of green and gold.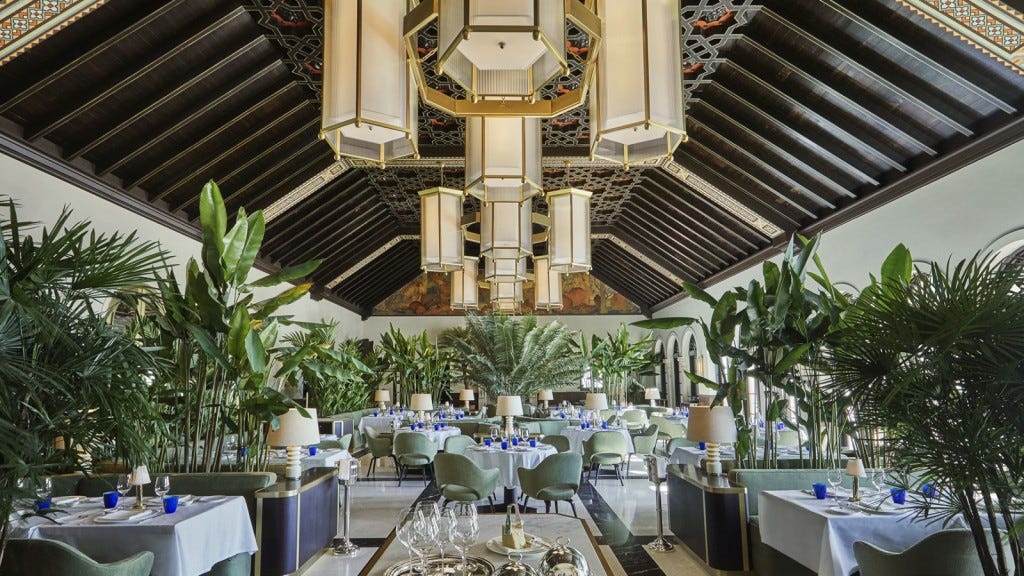 Photo credits: Four Seasons Hotel Group – The Surf Club
Meanwhile, Joseph Dirand can be credited for the total overhaul of the dining room and Le Sirenuse bar, where you'll find marble, brass, velvet, rich shades of ultramarine blue and bottle green, as well as oversized geometric chandeliers and an impeccably crafted ceiling, under which you can enjoy the art of the aperitif in pure Italian style.
The 1 Hotel Brooklyn Bridge in New York
Stretching nearly eight metres high, the living green wall greeting guests at the entrance certainly makes one thing clear: this hotel is a nature lover's dream, with eco-conscious considerations in every room.
For starters, there is natural daylight throughout, courtesy of oversized windows offering breathtaking views of the East River and Brooklyn Bridge. Then there are the materials: pine and walnut wood, along with mostly reclaimed stone and marble, as well as leather, rope and hand-woven textiles. (Even the mattresses are made from 100-percent-organic cotton.) Last but certainly not least, the plants: ferns, ficus and terrariums sprout up through the space. The 1 Hotels brand collaborated specifically with local businesses and artisans, including New York agency INC Architecture and Design and landscape architect Damien Harrison.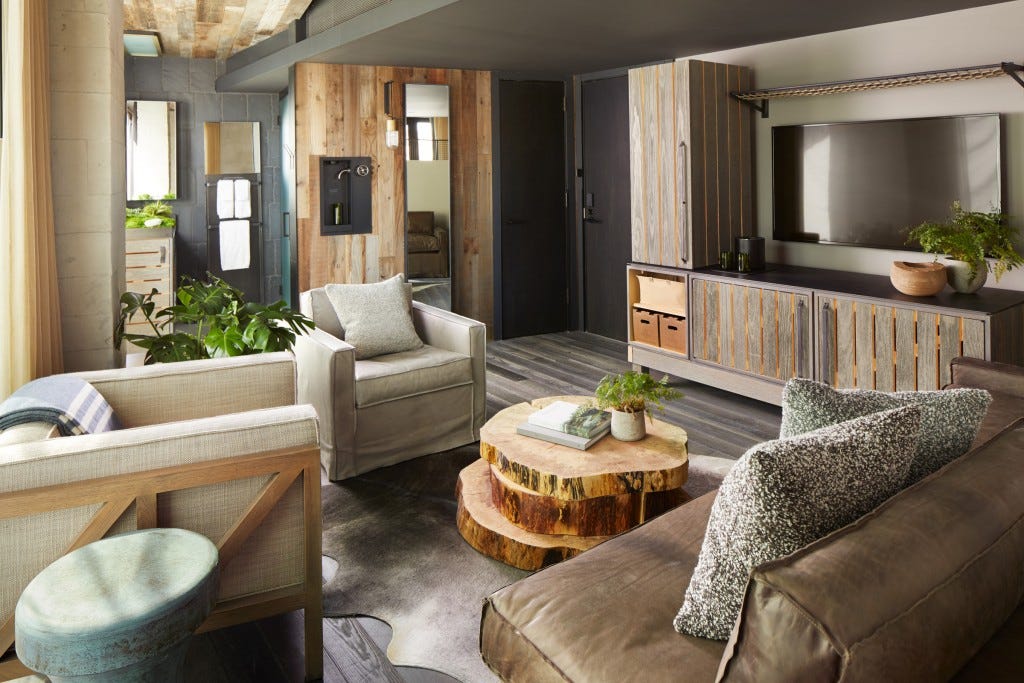 Photo credits: 1 Hotel Brooklyn Brige
When it comes to colours, earth tones steal the spotlight — a natural choice for this eco-cocoon composed of greenery and raw materials!
The NoMad in Los Angeles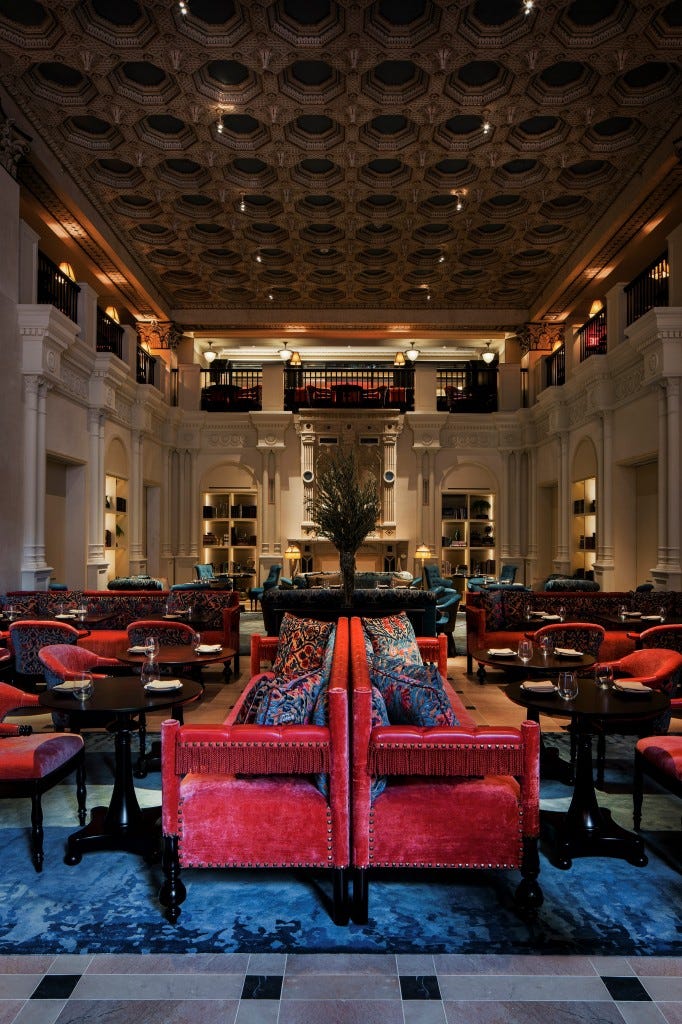 Refinement is waiting for you in this 20-year-old Californian building that once housed the Bank of Italy and was reimagined by French interior designer Jacques Garcia. Add to that the opulence of Art Deco style, which is making a comeback this year, too.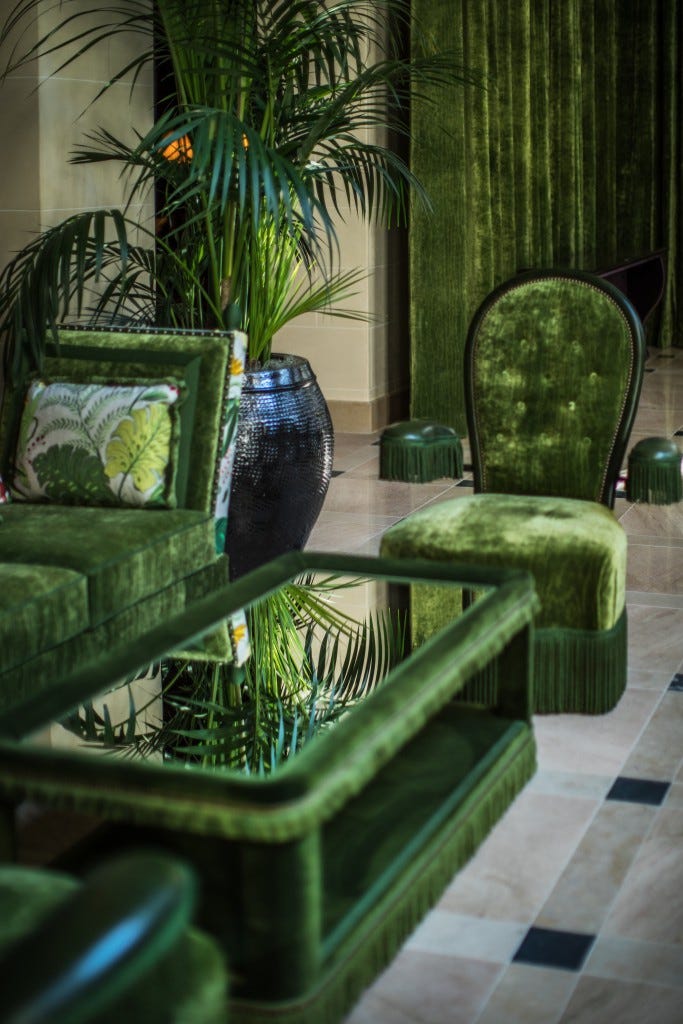 That means velvet — lots of velvet — in the form of drapes, armchairs and sofas, and in jewel tones such as emerald green, sapphire blue and ruby red.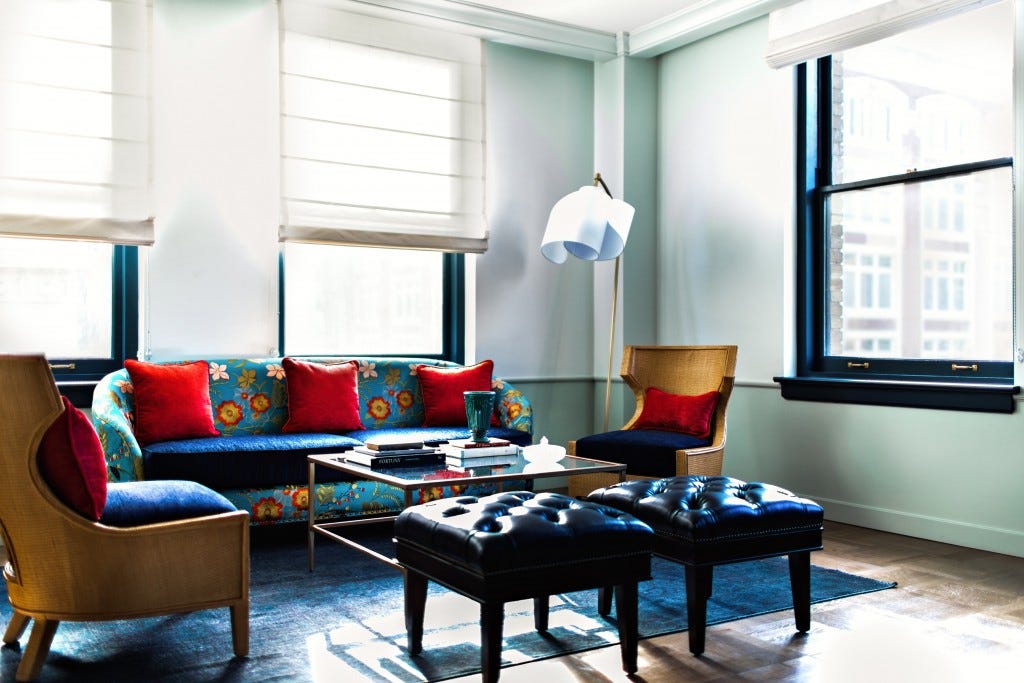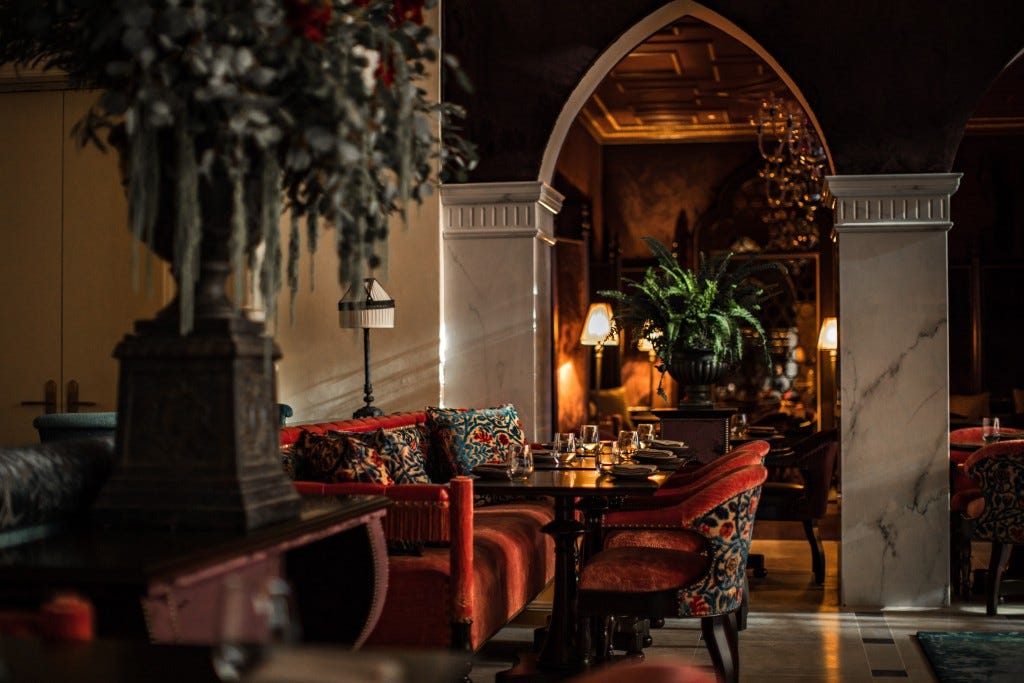 Photo credit: Benoit Linero for Sydell Group
Printed patterns of leaves and flowers — rich, colourful and adorned with fringe and tassels — also play up the pomp. As do the gilded details that dress up the frieze on the walls, table legs, brass lamps, door handles and frames. Another current trend to note inside the rooms? The wicker chair, which brings a touch of exoticism to this newest member of the Sydell hotel group.
The Amangiri in Utah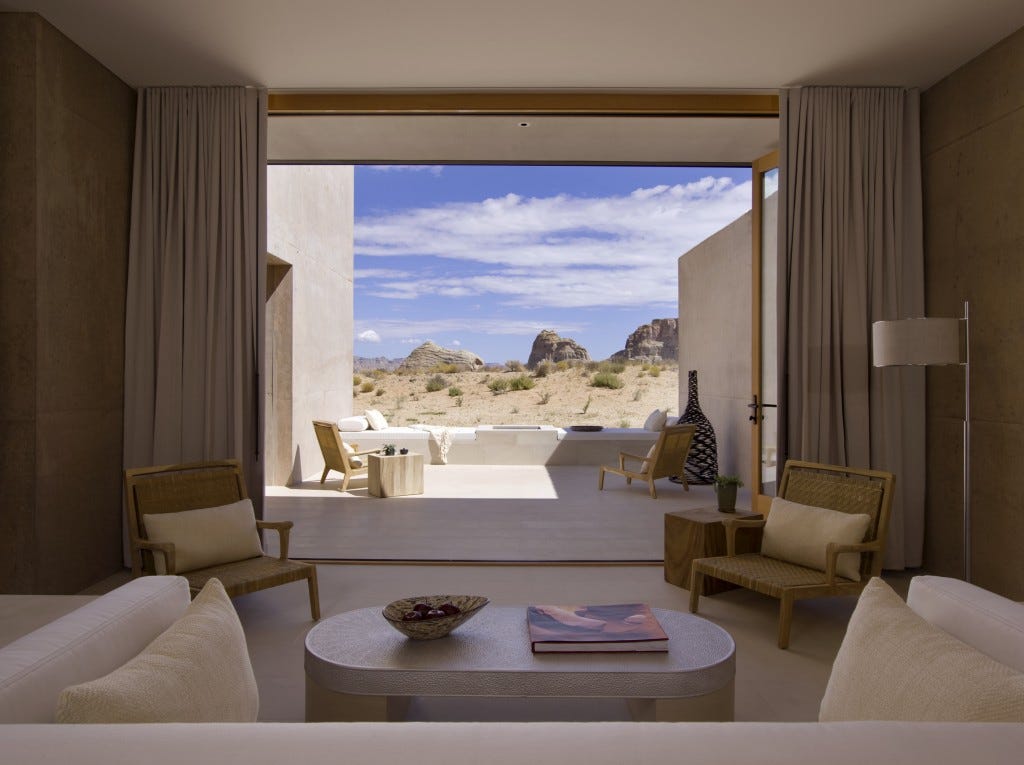 The mission of Marwan Al Sayed, Wendell Burnette and Rick Joy — the three American architects behind this award-winning hotel — was to harmonize the interior and exterior decor as one.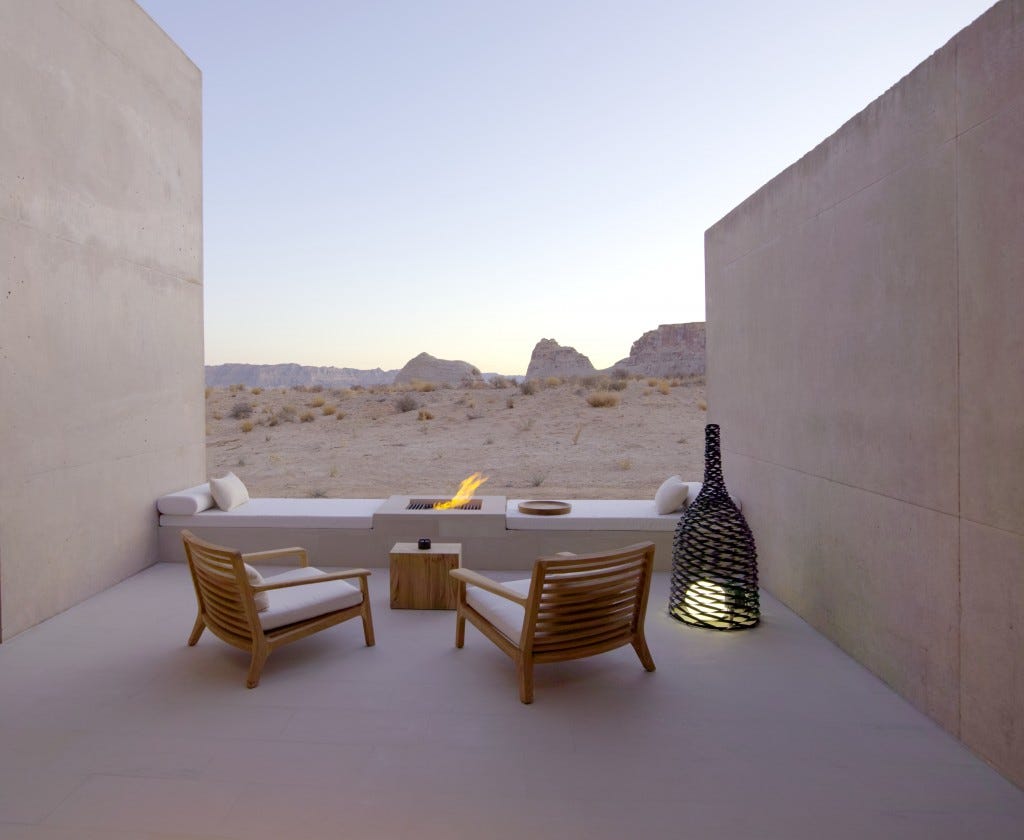 There is no denying this resort is magical, set in the heart of the desert, at the foot of one of the rock formations near Canyon Point. Not surprisingly, stone, wind, sand and light were the trio's only sources of inspiration, resulting in a pure and minimalist style that reflects the aridity of the landscape.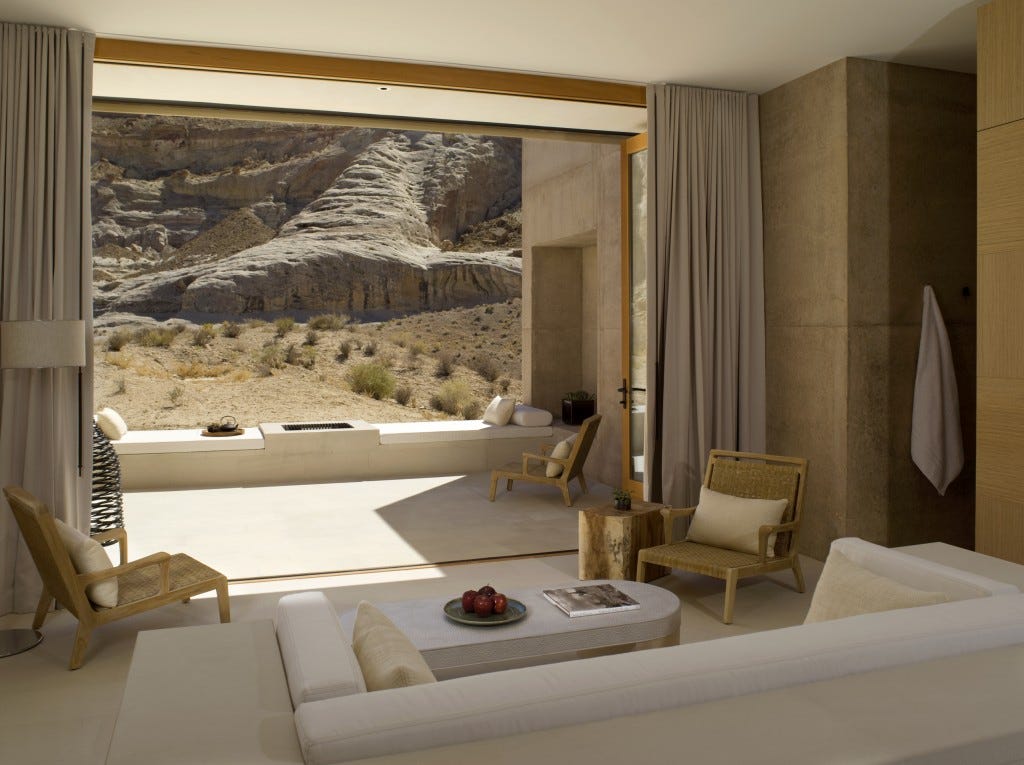 Smooth, bare concrete walls surround bright rooms that open onto private terraces, some with swimming pools, some without.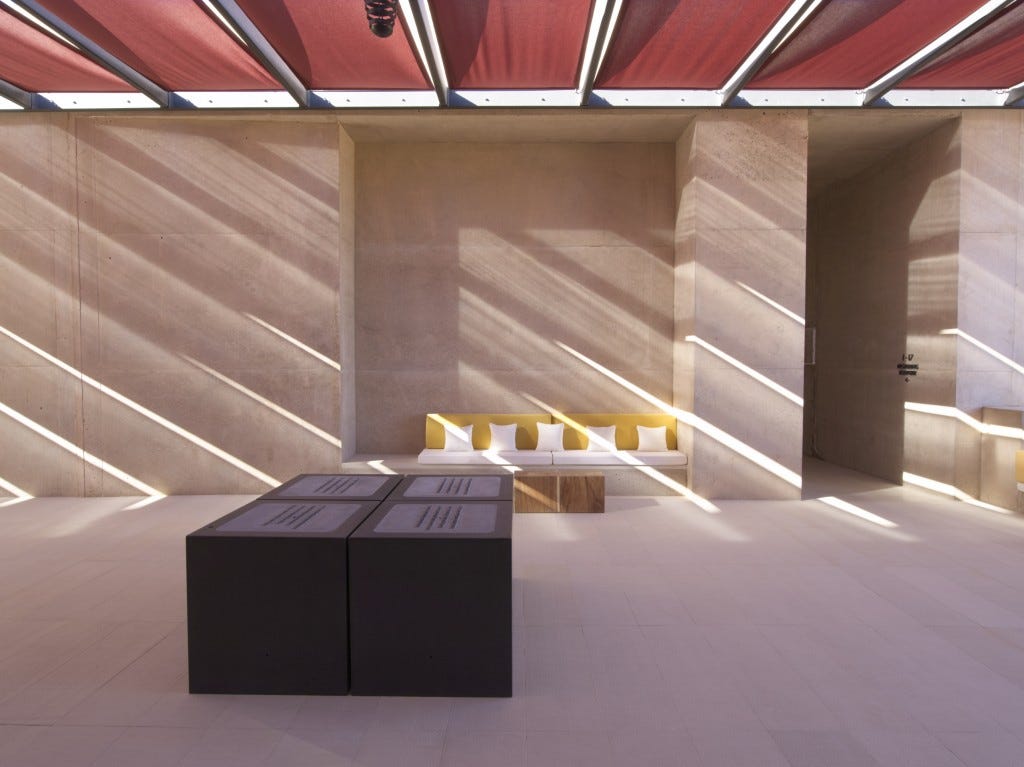 Photo credits: Aman Hotel Group
The ultra-pristine design brims with natural materials and mineral hues, punctuated here and there with a silver tabletop, a black bamboo lamp or a touch of bright colour, such as yellow cushions and red drapes in the entryway. It's a place of raw beauty and incredible elegance!
The Public in New York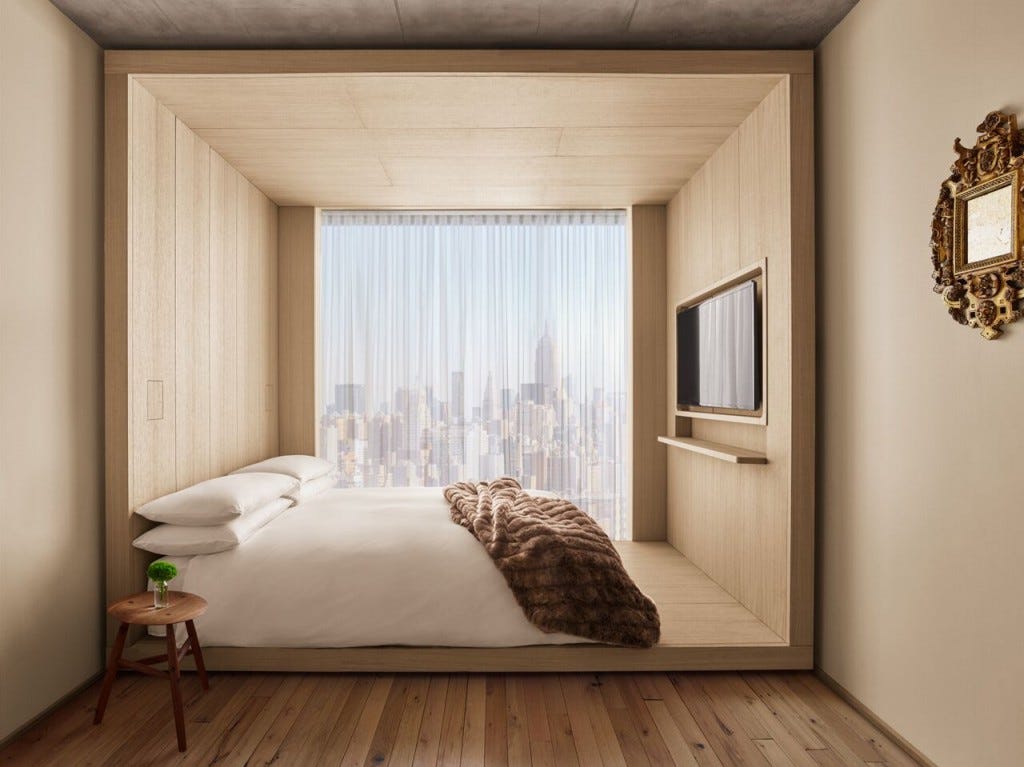 There are no frills or superfluity at Ian Schrager's newest concept hotel, only what is necessary and ultra-contemporary. Inside the minimalist rooms, you'll find beds nestled in wooden frames with a bird's eye view of the city's many skyscrapers.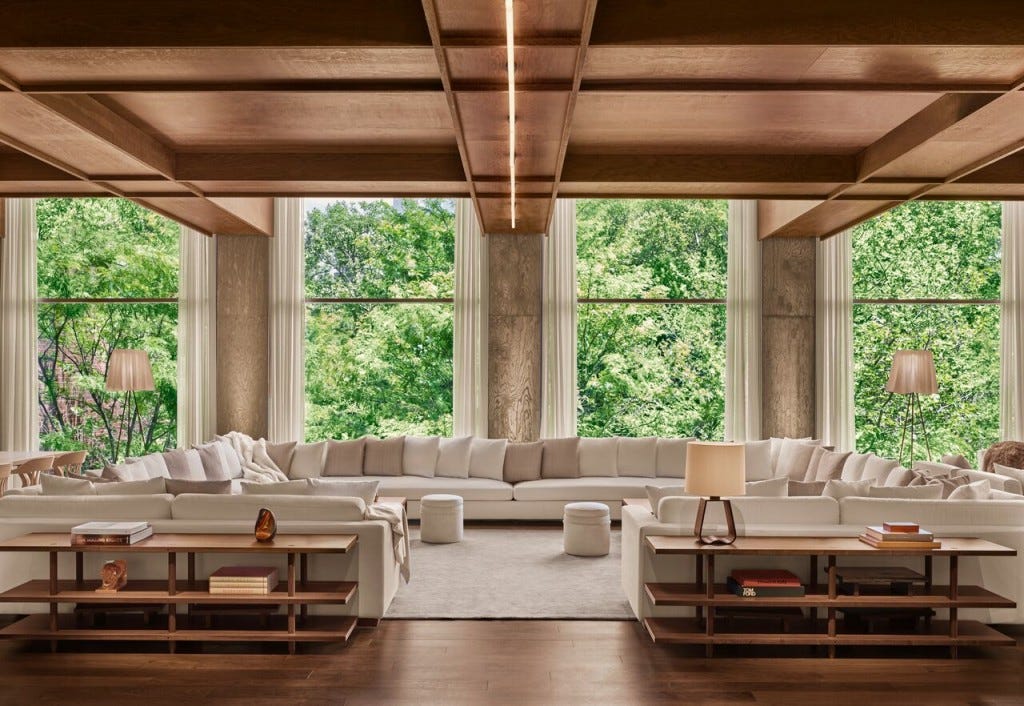 In the lobby, a massive cream-coloured sofa, surrounded by copper accents and the lush greenery of multiple gardens, is the perfect place to lounge the day away.
The Roof, decked in black leather and blue lighting, has a decidedly sexier feel. Playing with light and sophisticated style, it was designed in part by Swiss-architect duo Herzog and de Meuron.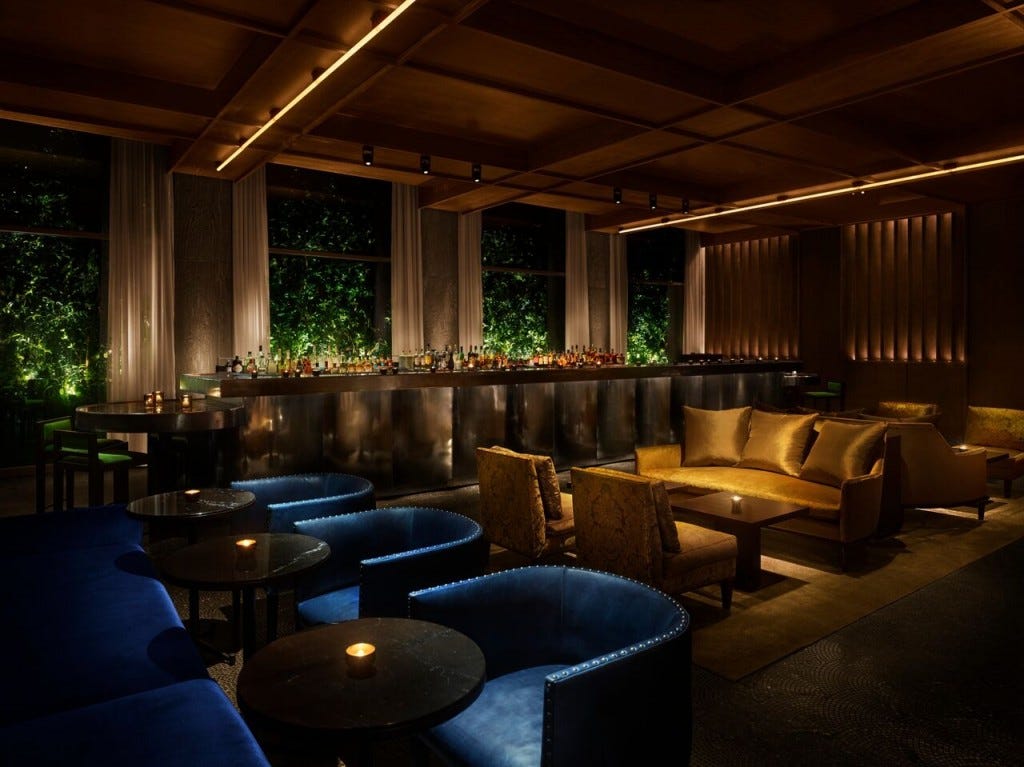 Photo Credits: Public Hotels
The Roof, quant à lui, habillé de cuir noir et de lasers bleutés, se veut plus sexy. Des jeux de lumière et un design sophistiqué, conçu en partie par le duo d'architectes suisses Herzog et de Meuron.
Click here to discover more design destinations on Pinterest. Have a nice trip!