Contemporary, eco-chic, art deco or ultra-glam, these four dining destinations were designed to delight both your eyes and your taste buds.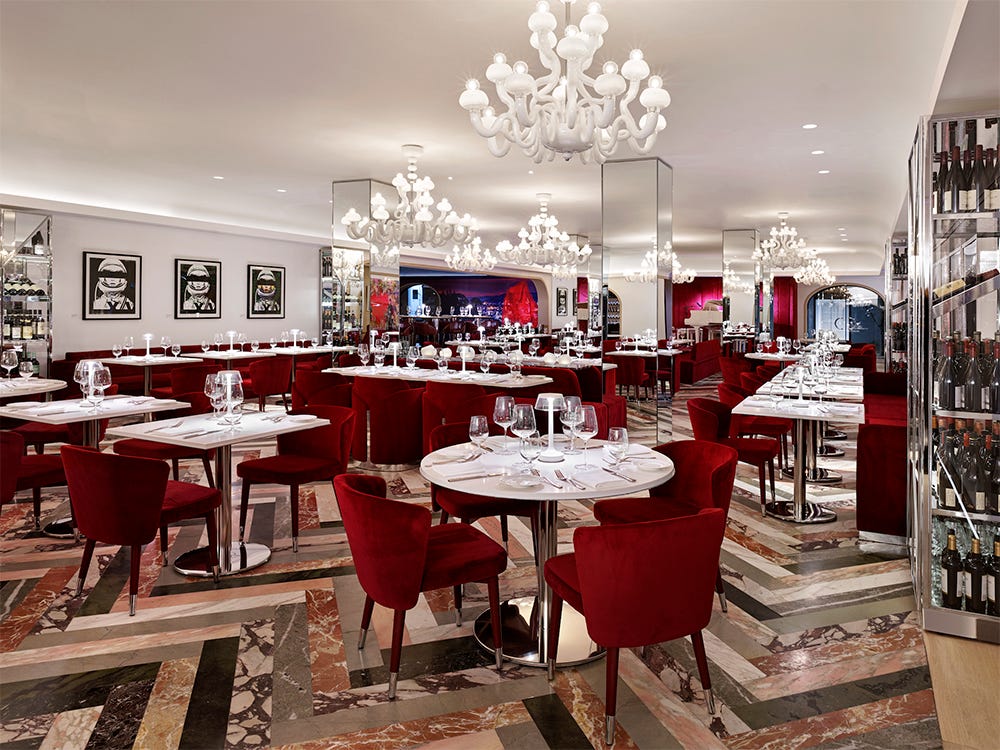 Photo credits: INK Entertainment
Passing through Sofia's door is like entering a life-sized jewel box, complete with passion-red velvet armchairs, immaculate Murano glass chandeliers, mirrored pillars and splendid, marble herringbone floors. Pop art by the likes of Andy Warhol and Jeff Koons hangs on the walls, while a white grand piano, perched on a ruby-coloured stage, is used as much to enhance the decor as it is for live entertainment. Owner Charles Khabouth, CEO of Ink Entertainment, enlisted the help of Studio Munge to create this up-to-date take on Hollywood glamour.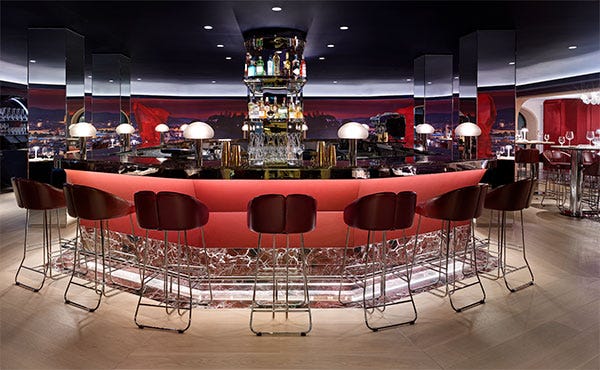 As for the food, he looked to Italy for inspiration, opting for subtle flavours in the form of citrus and fennel salad, beef carpaccio with figs and pine nuts, fettuccine with lobster and agnolotti stuffed with truffle and chanterelles. The bar area, featuring a more subdued, deep-blue palette, offers signature cocktails such as a Limoncello Negroni and Caffè Notturno with espresso—ideal for enjoying the art of the aperitif.

Shop our selection inspired by this decor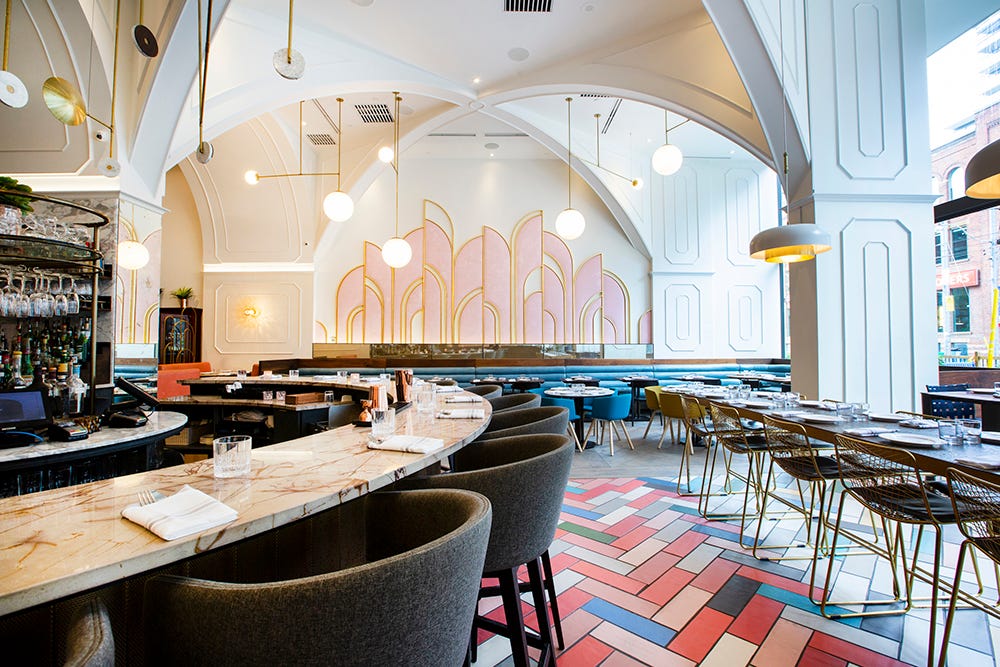 Photo credits: Oretta Restaurant
There's no such thing as too much pink or gold at this Italian restaurant, where one could easily spend "an hour or so" (that is, the definition of "oretta"). Beneath an impressive, white vaulted ceiling, this grandiose space sagely combines art-deco style with industrial chic. Here, you'll find raw-wood tables and chairs made from metal or woven straps alongside marble counters and velvet armchairs in mustard yellow and azure, all framed by geometric-patterned wall panels and equally graphic, retro lighting. Meanwhile, the multicoloured ceramic floor was made for Instagram. Oretta's interior was created by Commute Design, a Toronto-based agency that designs and manufactures its products locally.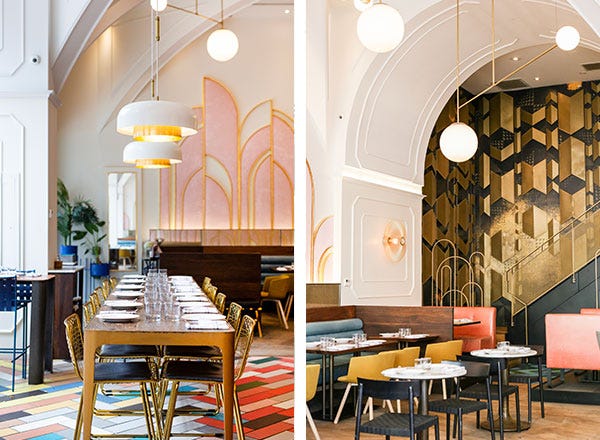 The menu is brimming with great Italian classics, along with desserts including panna cotta, tiramisu, cannoli and other homemade pastries that can also be enjoyed at Oretta Caffè next door.

633 King Street West, Entertainment District
Shop our selection inspired by this decor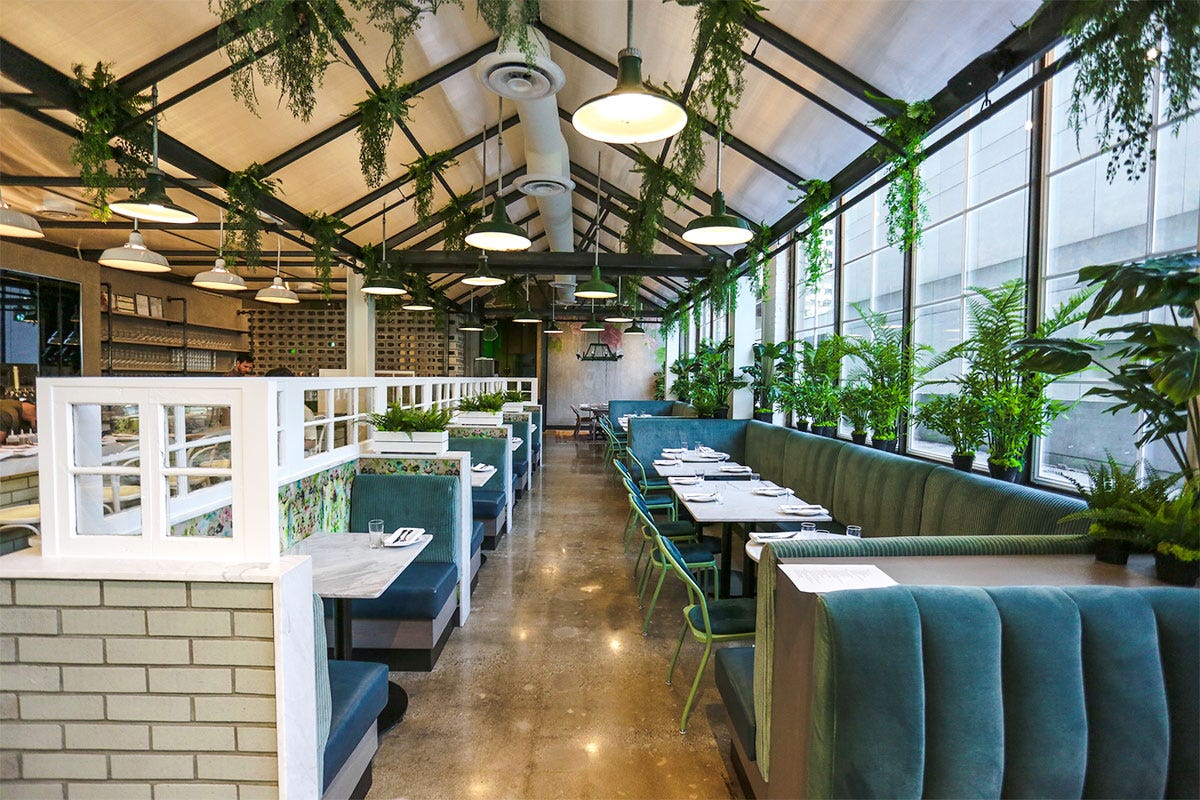 Photo credits: AJ Fernando & Rick O'Brien
Welcome to this Mecca of greenery, eclecticism and vegan Mexican cuisine run by three of the biggest names on the Toronto dining scene: Grant van Gameren (from Bar Isabel and Bar Raval, among others), Max Rimaldi and Jamie Cook. The trio dreamed up the decor themselves: an eco-chic setting divided into multiple spaces. The first is greenhouse inspired, with shades of blue and a polished concrete floor. Behind stained glass panels, white birdcage-style lights overlook forest-green velvet banquettes. At the back, a large table with wrought-iron legs, flanked by pastel-purple chairs, is accompanied by a soft-pink carpet, a turquoise-green chandelier and painted roses on the wall.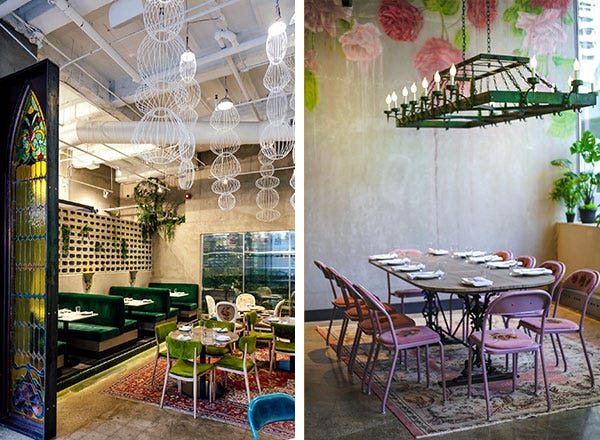 This is where you can savour mushroom and pineapple tacos, roasted eggplant with pomegranate seeds and cashew cream, coconut ceviche and mango cake with mezcal caramel. You can also enjoy a range of cocktails featuring various fruits, vegetables, kombucha and, naturally, tequila.

133 Richmond Street West, Financial District
Shop our selection inspired by this decor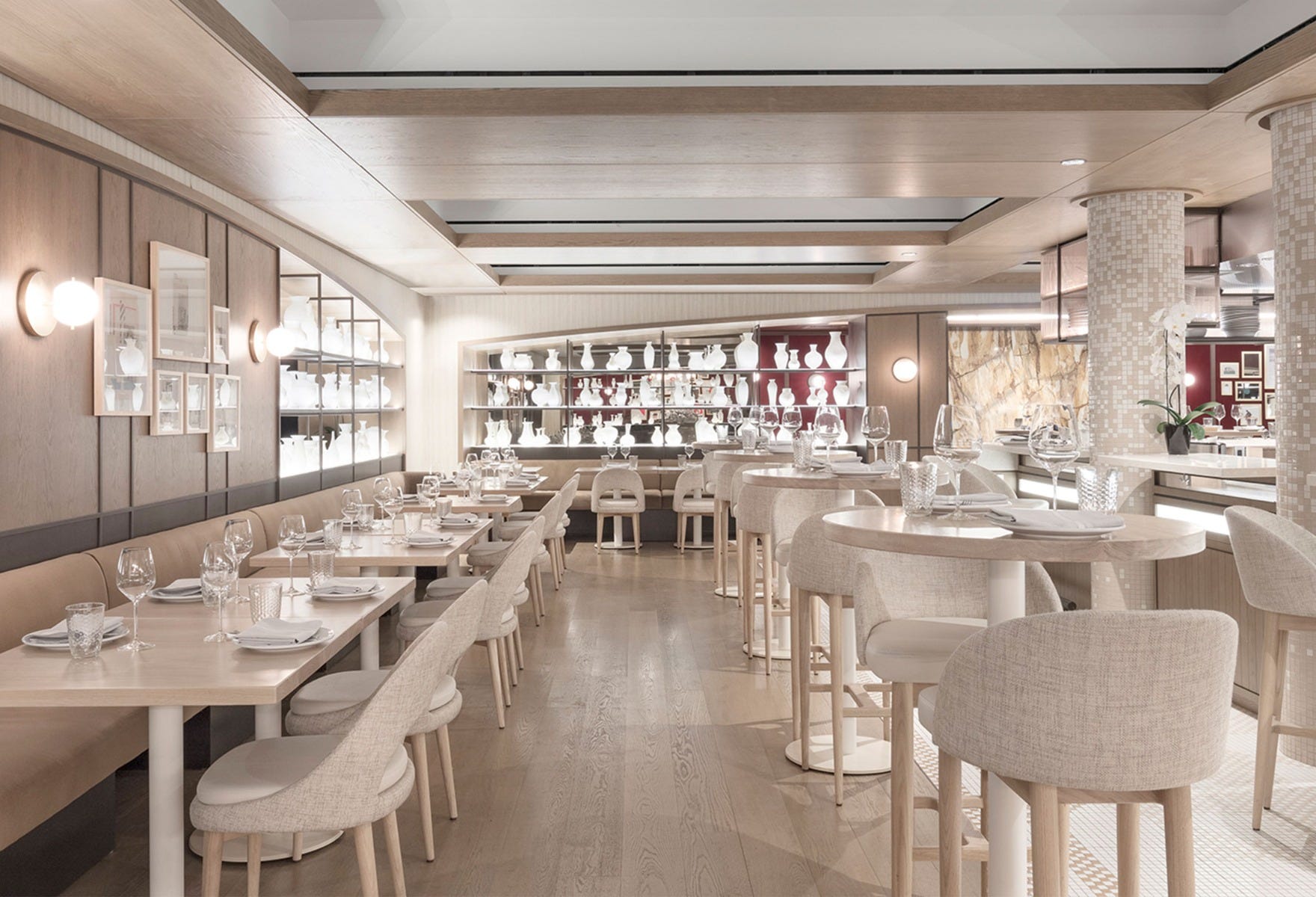 Photo credits: Maxime Brouillet
Painted in creamy white and dressed in blond wood, the dining room at Constantine offers a mix of comfortable banquettes, high tables perfect for one-on-ones and countertop seating around a central open kitchen. Two more subdued spaces, featuring cherry-red velvet walls, caramel-coloured armchairs and mahogany flooring, frame the main room. The bar, meanwhile, sets the mood with a more masculine palette of black, green-bronze and midnight blue. Studio Munge designed the ultra-contemporary decor of this restaurant, nestled inside the recently refurbished Anndore House boutique hotel.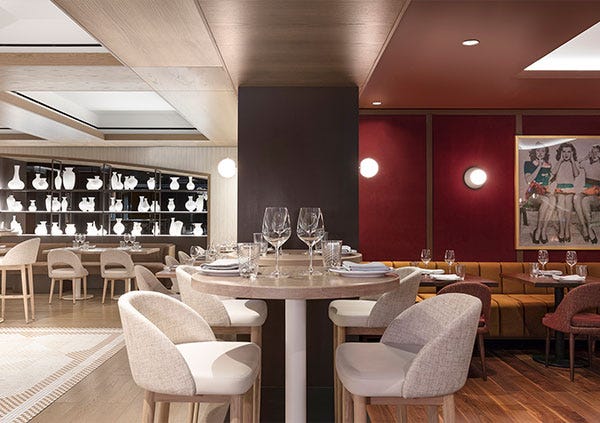 Named by Toronto Life as one of Toronto's 15 best restaurants of 2019, Constantine specializes in fine Mediterranean cuisine, including Syrian mezze with hummus, labneh and muhammara, Lebanese beluga rice, grilled octopus and lamb kebab, all of which pairs perfectly with the many Italian, French, Spanish, Portuguese, Greek and Moroccan bottles offered on the restaurant's well-edited wine list.

15 Charles Street East, Church and Wellesley
Shop our selection inspired by this decor