Bringing together design and flavour, these four Montreal restaurants have what it takes to awaken both your taste buds and your aesthetic tastes.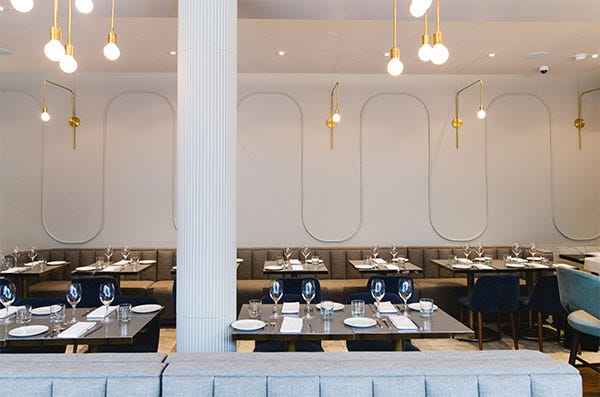 Photo credits: Hopkins restaurant
This Monkland Village restaurant has manager Nicolina Servello to thank for its fresh and stunning look. Set against a bright-white background are intertwining shades of blue, grey and light mauve, dotted with greenery. Copper-clad tables, gleaming lights, velvet banquettes and see-through resin chairs are reflected in the mirror that runs along the ceiling.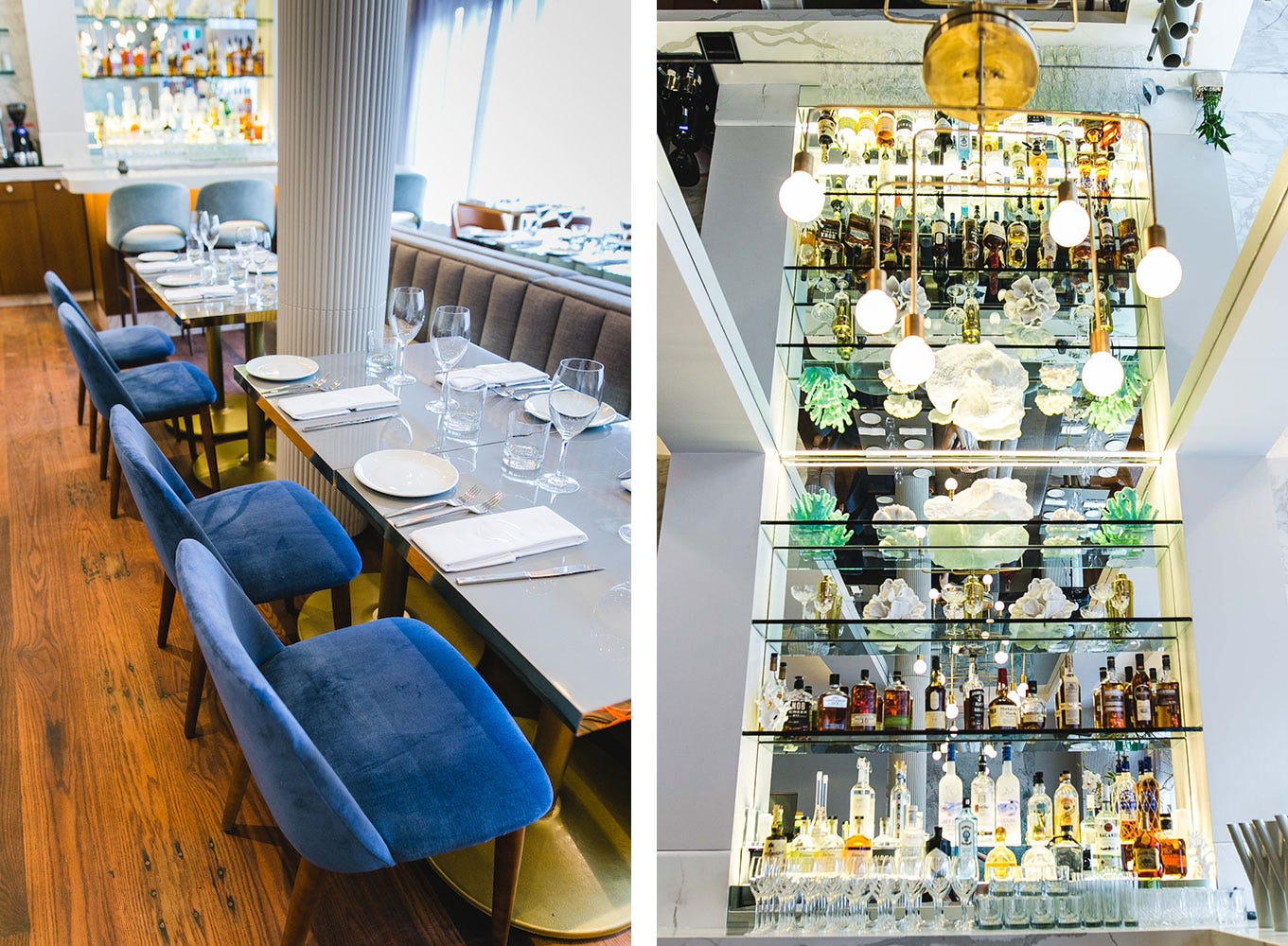 Diners flock to Hopkins for delightful dishes conceived by chef Carter Bourassa and divinely plated by Nicolina (who also happens to be a culinary stylist), including bone marrow crème brûlée with smoked duck breast, seared snapper with beet puree and seafood stew, not to mention a delicious selection of mix-and-match dishes for weekend brunch with the girls.

5626 Monkland Avenue – Notre-Dame-de-Grâce
Shop our selection inspired by this decor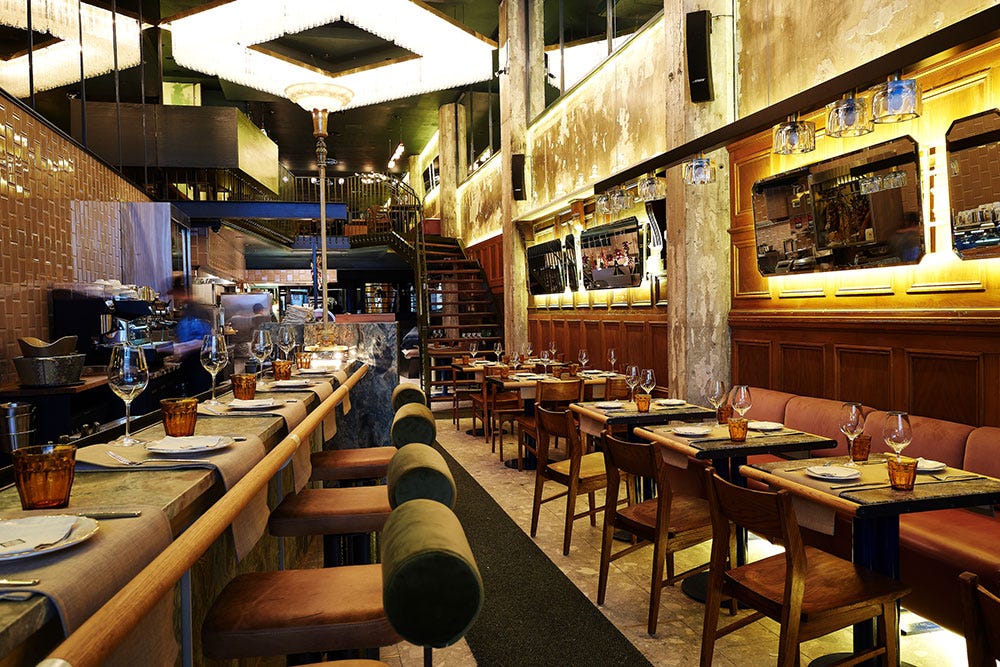 Photo credits: Ibérica restaurant
When you enter this hotspot for haute Iberian cuisine, you can't help but be drawn to the singularly spectacular glass chandelier. Its geometric shape, evocative of Art Deco style, melds perfectly with the rest of the decor, which features woodwork, mirrors, marble tables, jewel-toned velvet armchairs and golden accents sprinkled here and there. This glamour of the roaring '20s is thoughtfully juxtaposed by rough concrete walls—a striking contrast to the jolly air of Jazz Age conceived by the prolific Atelier Zébulon Perron, the design firm behind local haunts Furco, Royal and Montreal Plaza.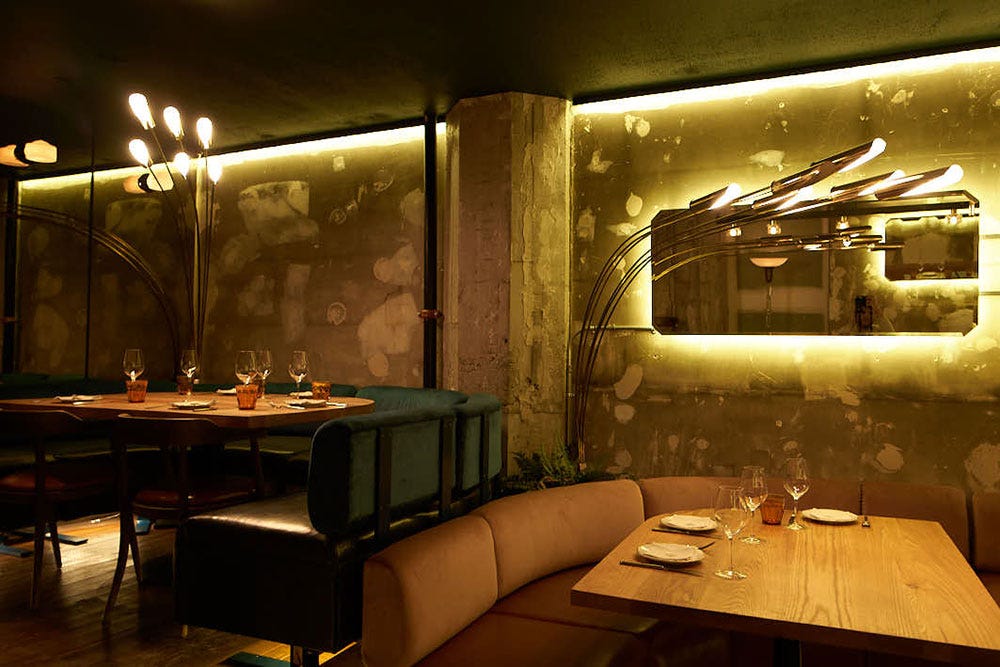 In the kitchen, Chef Marino Tavares draws inspiration from Spanish cuisine in general, and from Barcelona in particular, to concoct his dishes. Here, sardines and Ibérico de Bellota pork, cooked in a Josper wood oven, take on a subtly smoky aroma. There I also paella (available in a vegetarian version) and a wide selection of tapas served with privately imported Catalan wine.

Shop our selection inspired by this decor

Photo credits: Atelier Welldone
Airy, bright and elegant, this restaurant, located in a completely overhauled garage in the former stables district of Griffintown, puts a sweet spin on industrial style with the refinement of a pearl necklace. Natural light pours in through the huge glass roof that overlooks the bar furnished with white marble and rounded chairs. Straight lines mingle with curves throughout the restaurant, which combines raw materials, greenery and immaculate white enhanced with splashes of brass.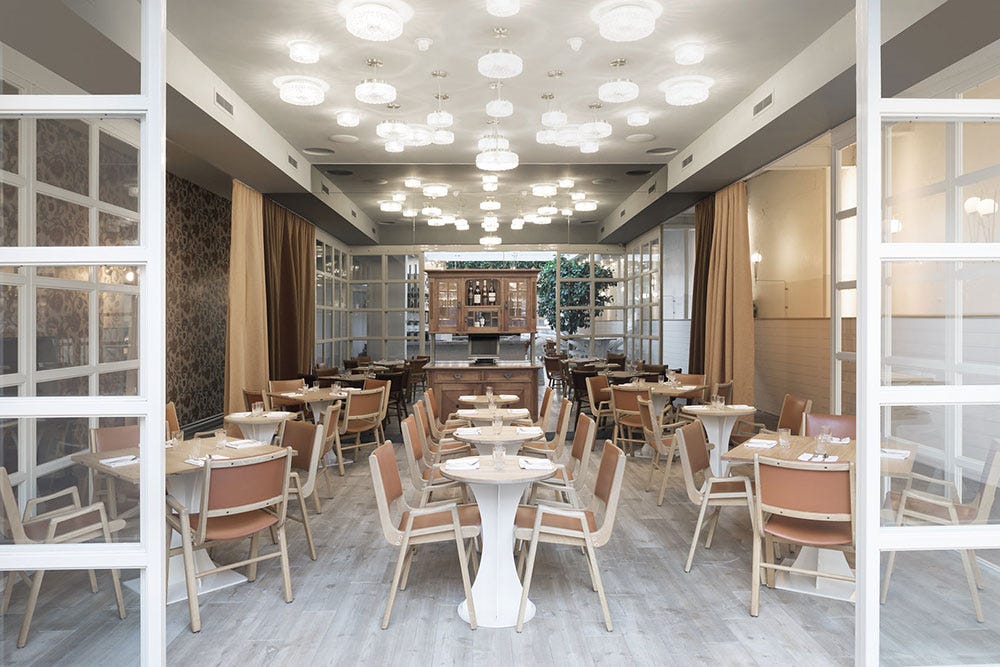 This ultra-contemporary space was designed by owner Maxime Perrault and architect Maurice Martel. Even the kitchen is a designer's dream, highlighting the market-fresh products and chef's marriage of flavours (picture mayonnaise with black garlic and vermouth sauce with curry). A seasonally inspired menu and variety of small dishes to share will delight any palate, from the most classic to the most daring.

403 des Seigneurs Street – Griffintown
Shop our selection inspired by this decor

Photo credits: James Brittain
On a white marble floor with sumptuous mosaic-shaped tiles reminiscent of ancient Roman villas sits a set of caramel-coloured wood tables and padded black-leather benches. With brick walls, high, workshop-style windows framed in black metal, a raw concrete ceiling and open-concept kitchen, this Euro-chic brasserie, designed by Alain Carle Architecte, had all the assets needed to take home the top prize for restaurants over 2,000 square feet at the Grand Prix du Design last January.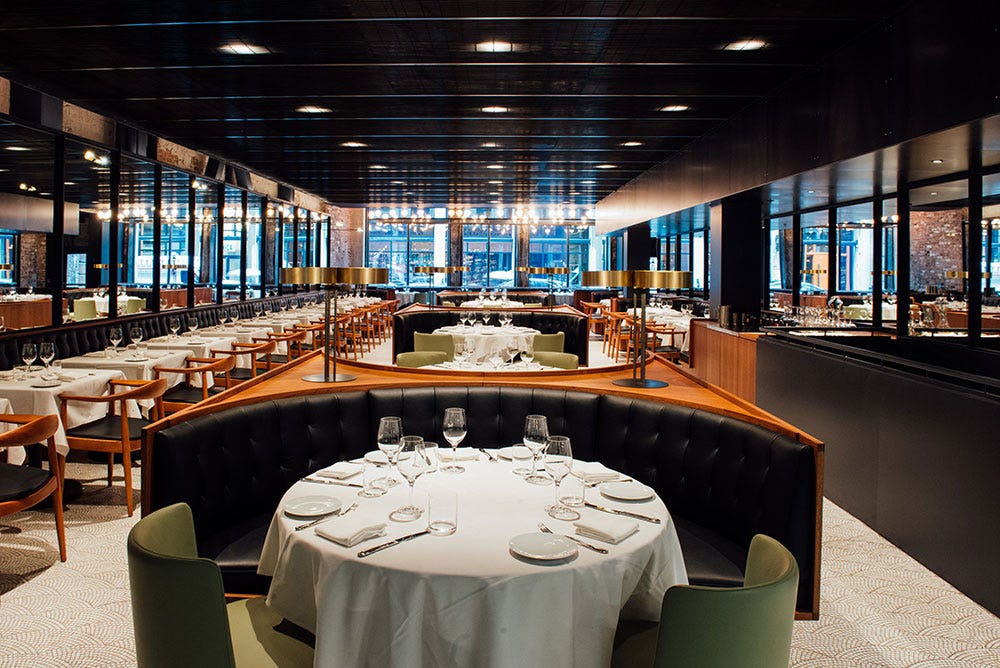 The French-inspired menu, created by chef Richard Bastien and his son Jérémie, is as impressive as the space: oysters, scallops, grilled veal sweetbreads, guinea fowl ballotine and foie gras sauce, poached half-lobster, PEI beef ribs, maple-flavoured kouign-amann, Paris-Brest, pavlova with passion fruit…the dishes here are a wonder for the senses!

406 Saint-Jacques Street – Old Montreal
Shop our selection inspired by this decor