A long-time collaborator of Ligne Roset, the designer and interior architect reflects on her atypical path and shares her sources of inspiration.
Travel has the capacity to not only shape youth identity but also launch a career! At the age of 25, Marie Christine left her native Strasbourg to see the world. Her daring adventure was an early indication of the thirst for discovery and interest in global cultures that would colour her creations throughout her career. Her journey took an unexpected turn when a stopover in Japan became a one-year stay. Not only did Japan's culture make a considerable impact on her creativity, but a chance encounter there also changed the course of her life. It was there that Marie Christine met Teruo Kurozaki, an icon of contemporary Japanese design who asked her to create a furniture collection.
Named Origami, the collection was a success and even caught the eye of "starchitect" and enfant terrible of the design world, Philippe Stark (who penned the introduction of the exhibition's catalogue).
She couldn't have dreamed of a better calling card for her return to France. There, she established own interior architecture agency and took on the renovation of the La Villa hotel in St-Germain des Prés, considered to be Paris' first "design" hotel. She also undertook the restaurant inside the Comédie-Française, and, in 1990, designed the presidential rostrum of July 14. The grandstand, which housed nearly 1,500 guests for the military parade on July 14, would go on to be reassembled 30 additional times. It was, no doubt, a sustainable design well ahead of its time.
Presidential Rostrum, Place de la Concorde / Paris, 1990-2018
In 1996, she moved to London, where she lived for 12 years. In addition to her creative work, she taught at the Royal College of Art. Sharing her knowledge is at the core of Marie Christine's creative process. "When you are passionate about something, it is selfish not to share it." She says. "Students also teach me a lot. They help me clarify my ideas, where I am, where I am going, how I present myself. Having to explain what you do helps you understand what's important to you." Marie Christine still teaches to this day, back where she studied design, at the Camondo school in Paris. As a perk, her students benefit from a lesson in determination. Her motto?
"Be curious, go out, do what you want to do, think outside the box. Just because someone hasn't already done it doesn't mean you can't do it. Sure, there are thousands of pieces of furniture, and it seems like everything has already been done, and yet, everything still remains to be done. You have to discover new techniques, new skills. Have no fear!"
Marie Christine's confidence stems from the fact that she's always followed her own instincts. For her, interior architecture and design are a calling she experienced at a very young age. "When I was little, I would switch rooms with my brothers and sister so that I could redecorate them. I would stay for a few months and then take over another room!" When she was a teenager, Marie Christine's passion became clear. Without her parents' knowledge, she applied to the École supérieure des arts décoratifs de Strasbourg in secret—and was accepted! Her parents ultimately convinced her to finish her baccalaureate first and pursue her studies in Paris.
Despite the passage of time, travel remains a passion for Marie Christine and a source of inspiration that influences her work as an interior designer. "I design spaces that are no doubt shaped by my time in Japan, with fairly precise lines, softness and serenity. And then, sometimes, I use my British experience to combine objects, colours and textures."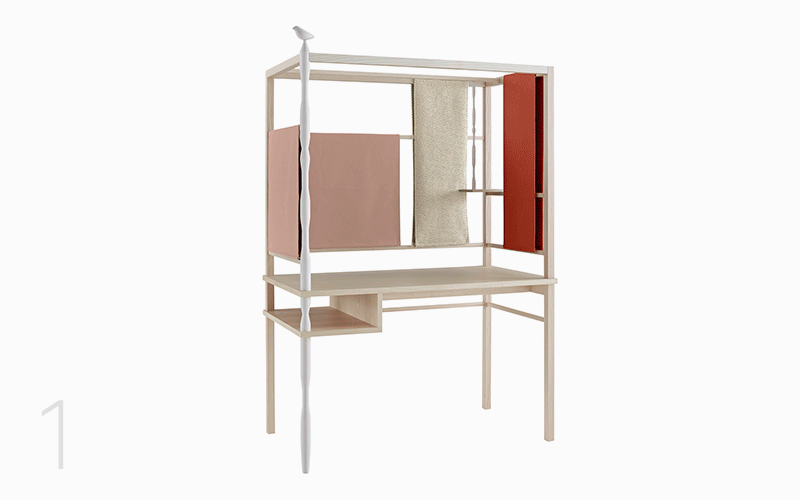 1. Koya desk, Ligne Roset
2. One Shape side table, Ligne Roset
3. Crash Coffee table, Ligne Roset
You can also find Japanese inspiration in some of Marie Christine's furniture designs, including the Koya desk and the One Shape sofa end table for Ligne Roset. The designer has in fact created several pieces for the prestigious French brand. It was a collaboration that began with a pleasant surprise.
"Like hundreds of designers, I sent drawings to Ligne Roset, the largest French furniture manufacturer." Ever determined, she continued to apply, despite the radio silence. "I hadn't received a response until one day, I got a call and was told they had prototype images that wanted to send to me!" This first collaboration resulted in Crash, a two-level coffee table featuring a pair of trays that slide one on top of the other.
As Marie Christine's designs for the brand multiplied, she became enamoured with the brand's know-how. "We ensure quality in a way I never would have thought possible at the start. For example, there are 5 or 7 types of foam used in a sofa, from soft to firm, with memory shape or not." Contributions from the engineering team also add to the creative process. "As a designer, I provide drawings, forms, an aesthetic, a function, and a synthesis of all of the above, and there are people who offer their input on manufacturing and improvements. It's a constructive back and forth!"
It was Ligne Roset's know-how and technological approach that inspired Uncover, an innovative sofa crafted in part by sewing machines. "These high-performance machines create pre-programmed and precise seams quickly and automatically. I had the idea of using phased stitching, denser in some areas and more spaced out in others. I'm interested in taking a machine's ability and applying it differently than how it has been used before."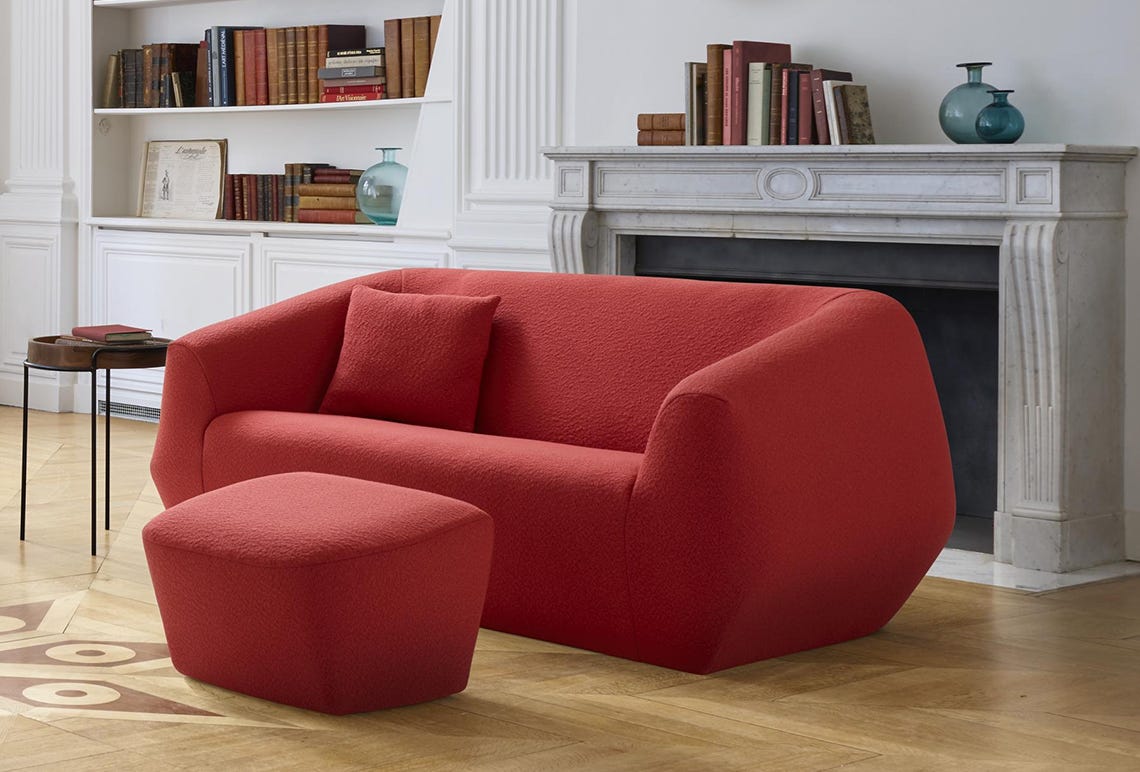 Uncover Sofa, Ligne Roset
Marie Christine's innovative mindset certainly helps to explain her success in the competitive world of design. That, and her secret weapon:
"I listen! When you are alone in front of your drawing board, you can do what you want. But when you're faced with people who have a problem, whatever it may be, it's a good idea to open your ears and take into account the client's needs. Perhaps it was my psychoanalyst mother who taught me that!"
Watch the full video of the interview (in french)
---



Marie Christine received
the Grand Prix du Design
in 1995 and was named
Chevalier de l'Ordre des Arts
in 2012.